Hellboy: Blood and Iron
(2007)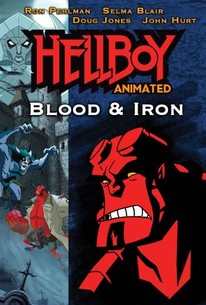 AUDIENCE SCORE
Critic Consensus: No consensus yet.
Hellboy: Blood and Iron Photos
Movie Info
Mike Mignola and Guillermo Del Toro team up once again to bring everyone's favorite wise-cracking, crime fighting demon to the screen in an animated adventure that finds Hellboy, Liz Sherman, and Abe Sapien pitted against a powerful horde of supernatural baddies. When a sprawling mansion becomes overrun with ghosts and werewolves, Hellboy is forced to put in some serious overtime to ensure that the situation doesn't get out of hand. Add into the mix a villainous vampires and a malevolent goddess, and you've got a recipe for Hellboy's most thrilling assignment to date. Ron Perlman, Selma Blair, Doug Jones, and John Hurt all return to voice the same characters they portrayed in Del Toro's rousing live action film.
News & Interviews for Hellboy: Blood and Iron
Critic Reviews for Hellboy: Blood and Iron
All Critics (3) | Fresh (3) | Rotten (0) | DVD (2)
It's a mature follow-up to an utterly entertaining franchise...
July 10, 2007 | Rating: 4/5
Fans of the Hellboy property, particularly younger ones, should find enough to enjoy here.
Audience Reviews for Hellboy: Blood and Iron
Closer to the comic than the movies but it feels more like a bad episode of the Real Ghostbusters.
James Alvarez
Super Reviewer
½
Even more enjoyable than the last Hellboy animated encounter. This time adding Hurt's Professor Broom and further establishing their own continuity adds a more heartfelt undertone to all the proceedings. It's also nice to see every character get to play the hero for a little while. The monsters look great and we get a better sense of the mythic world in conjunction with our own. It's sad that some of these ideas wont be seen in live action as their are some wonderful ideas that I would love to see Del Toro interpret. Again this is one for the fans who want to see an extra Hellboy adventure as I doubt it will appeal to the skeptics.
Luke Baldock
Super Reviewer
The stories of Mike Mignola never get old and neither does seeing Hellboy animated. Blood and Iron is one of those animations that is geared more towards adults as it has a dark feel to it. This isn't rated R, but it sure as h*** isn't rated G.
As usual the story for this Hellboy adventure rides high on science fiction and that is what makes this series so entertaining. Blood and Iron focuses way more on story rather than the action. The run time is only 75 minutes and the action doesn't happen until 2/3 of the way in. Fortunately, the first 2/3 of the film is still good. The story jumps back and forth between the past and the present multiple times. What makes this even more interesting is that the scenes that take place in the past appear in reverse order, going back further and further in time with each new scene.
You do have to wait a while for the action, but you will get your fill at the end. Abe Sapien gets in on a bunch of the fights and Liz Sherman gets a chance to use her pyrokinesis to take down some baddies. Hellboy has the most intense fight when he battles the goddess Hecate. This is one fight that deserves to be in live action.
Once again the original actors, Ron Perlman, Selma Blair, Doug Jones, and John Hurt, return to do the voices for their respective characters. John Hurt has a big role as Professor Broom, while Peri Gilpin only has a few minutes with BPRD agent Kate Corrigan
This is definitely another good watch for Hellboy fans. "Destiny is overrated!"
Hellboy: Blood and Iron Quotes
There are no approved quotes yet for this movie.