Hellboy: Sword of Storms
(2006)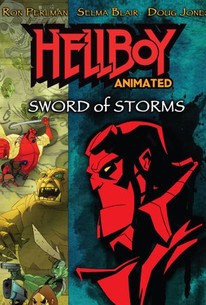 AUDIENCE SCORE
Critic Consensus: No consensus yet.
Hellboy: Sword of Storms Photos
Movie Info
Buzz Lightyear of Star Command director Tad Stones teams with Hellboy creator Mike Mignola and Hellboy director Guillermo del Toro to follow the further adventures of the wisecracking demon who fights for the powers of light in the mortal realm. A folklore professor has become possessed by the ancient Japanese demons of Thunder and Lightning, and the Bureau of Paranormal Research and Defense has dispatched an experienced team of professionals to investigate. As Hellboy discovers a cursed samurai sword that transports him to a feudal supernatural dimension inhabited by malevolent ghosts and vicious monsters, Liz and Abe Sapien face off against a powerful and very angry dragon. In order to slay the giant beast, Liz and Abe are going to need the help of the Right Hand of Doom, but before he can help his friends, Hellboy will have to defeat two of the most ferocious spirits ever to unleash their wrath on man. It's not going to be an easy fight, and before the battle is over, Hellboy will find out just how vengeful the legendary duo of Thunder and Lightning can truly be.
News & Interviews for Hellboy: Sword of Storms
Critic Reviews for Hellboy: Sword of Storms
All Critics (4) | Fresh (4) | Rotten (0) | DVD (5)
The animation and landscapes are fantastic with whimsical tones reminiscent of "Vampire Hunter D"...
July 10, 2007 | Rating: 4/5
Sword of Storms gets right what other cartoons aimed at older kids and their parents struggle to achieve.
Audience Reviews for Hellboy: Sword of Storms
½
Hellboy goes all animated. The character designs are nice, as is the fact that the live action stars return to do the voices. It adds a level of consistency with the film, as does the use of the main theme. However the film does not feel obligated to follow in its big budget brother's shoes. The story is also quite interesting, though it is Abe and Liz's side story that really takes over. Hellboy searching through a Japanese past often feels episodic and sometimes like a computer game as he must take on different "bosses". Overall though it's fun and fresh but mostly for Hellboy fans.
Luke Baldock
Super Reviewer
It is one thing to see Hellboy in live action, but it is also another to see Hellboy animated. The animations may not look as extravagant as live action, but that shouldn't chase you away from this. Trust me when I say that this is a good watch.
This animation has a great sci-fi story going for it and it fits into the Hellboy universe nicely. At only 75 minutes, this film is also able to provide all the major characters, Hellboy, Liz Sherman, Abe Sapien, and Kate Corrigan, with a decent amount of airtime. For the majority of this animation, Hellboy finds himself in another dimension in Japan. This world houses a variety of different monsters, ghosts, etc. Hellboy has to do battle with a good number of them as well. In case you are wondering, he does have his gun. After viewing this, it is easy to see Guillermo Del Toro turning this into a live action masterpiece.
Visually, this is no Japanese anime, but it isn't no cheap Family Guy crap either. The characters have the look and feel of their comic counterparts.
The voice work is fantastic. This is because the actors that pull off the great live action characters take the time to voice this animation. Ron Perlman, Selma Blair, and Doug Jones are no strangers to the Hellboy world and they are able to bring their agents to life. Peri Gilpin shows up as BPRD agent Kate Corrigan who is another big character in the stories.
People may expect to see some lame American cartoon, but this will be a satisfying watch for Hellboy fans.
½
Hellboy: You're not a normal fox. Fox: And you are not a normal man. Hellboy: Really? What gave me away? Any idea why I'm here? Fox: Do I look like a philosopher? Hellboy: Nice. Fox: You carry the sword of storms, and it has tasted the blood of demons. That is all you need to know. For now. Hellboy: Sure, 'cause that's just so much to absorb all at once. Fox: [leaving] Don't cut yourself. An animated film based on the comic series Hellboy. This is much closer to the actual comic than the 2004 film was and is separate from that film. However it is still produced by both its creator Mike Mignola and the film director Guillermo del Toro. The story surrounds a mission Hellboy and his team, Abe Sapien and Liz Sherman are on, surrounding a mysterious sword in Japan and the monsters that go with it. Early on Hellboy picks up the sword and literally disappears. So while he fights his way back, Abe and Liz also encounter problems of their own. Hellboy: Oh, crap. It helps that all the voices are from the same actors from the film, particularly Ron Perlman, who has literally been born to be Hellboy. He has the right amount of charm and smart ass sense to make it work. The animation is pretty good. It sets a decent tone and has a good look to associate it with the comic. The music, particularly the Hellboy theme, also work to make this enjoyable. There are some problems involving how to keep this story interesting, but Hellboy's presence really holds everything together. Hellboy: [sarcastic] Gosh, Kate, I feel just awful dragging you away from rotting manuscripts and ancient texts. I mean, you used to research trolls! Professor Kate Corrigan: It's okay. Now I get to work with one.
Aaron Neuwirth
Super Reviewer
Hellboy: Sword of Storms Quotes
There are no approved quotes yet for this movie.