Hellgate
(1989)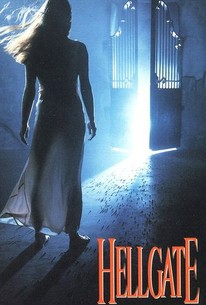 AUDIENCE SCORE
Critic Consensus: No consensus yet.
Movie Info
The daughter (Abigail Wolcott) of the owner of a ghost-town tourist attraction was killed by strangers, and the owner bears a serious grudge to those who are his bread and butter. So much so, that when he runs across a crystal that revivifies corpses and turns them into monsters or worse, he uses it on his newly dead daughter. When she is revived, she looks normal, and is able to lure unsuspecting victims to the man's town where he can then chop them up. In this horror thriller, a group of college students on a lark come to the town with predictable results. Fortunately for the hero (Ron Palillo), the dead girl still has some human feelings left. ~ Clarke Fountain, Rovi
Critic Reviews for Hellgate
All Critics (2) | Fresh (0) | Rotten (2)
Rampant continuity issues, editing blunders, badly placed slow-motion, completely random explosions, inappropriate actions and reactions, and nonsensical ghosts abound.
Audience Reviews for Hellgate
The biggest question I have after watching thei movie is" WHAT EVER HAPPEN TO ABIGAIL WOLCOTT????????" Well this is not all that bad of a movie, it has the person who did the special effects for Hellraiser work on the special effects for this movie, though not as good as hellraiser, not even close it still is better the some of the drive-in swill I have seen. Also in this movie is Horshak from Welcome back Carter (always wondered what happen to him) Ron Palillo. Again this is a ok movie, has its funny parts, its not real horror, kind of like Drive in Comedy horror. 4 Young people are at a cabin for the weekend, on the way to the cabin, one of them run's into and almost over Josie played by Abigail Wolcott, and why she only did one movie is beyond me, must have been the name. She was beautiful with and without cloths. Anyway Josie is after one of the guys, and lures him into her clutches, wish I could be so lucky. Josie's dead zombie Dad does all he can to keep guys away from her, (I've met a few zombie Dad's like that). Anyway it has some cool parts, came as a double feature by anchor bay and this was the best of two films. But still only 3 stars
Bruce Bruce
Super Reviewer
Hellgate Quotes
There are no approved quotes yet for this movie.