Hello Mary Lou: Prom Night II
(1987)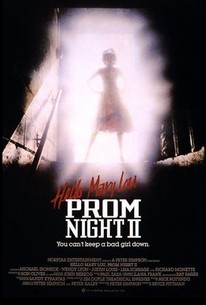 Hello Mary Lou: Prom Night II Photos
Movie Info
Though not a true sequel to Paul Lynch's derivative slasher-dud Prom Night, this Carrie-flavored horror film begins in 1957 with the fiery death of bitchy prom queen Mary Lou Maloney (Lisa Schrage) courtesy of a backfired stinkbomb stunt pulled by her jealous ex-boyfriend. Thirty years later, her killer has become the school principal (Michael Ironside), and sweet, innocent Vicki (Wendy Lyon) is a contender for the prom-queen title. Mary Lou's vengeful spirit spies the perfect opportunity to reclaim her crown once and for all. The rest of the film involves Vicki adopting Mary Lou's less-than-reputable habits and messily destroying anyone who stands between her and the coveted title. High points include a telekinetic "Tutti Frutti" locker-room squashing and a swirling demonic blackboard, all courtesy of FX wizard Jim Doyle, who worked previously on A Nightmare on Elm Street, to which this film bears some stylistic similarities.
Critic Reviews for Hello Mary Lou: Prom Night II
Audience Reviews for Hello Mary Lou: Prom Night II
Oh man, is this thing ever a mess. Even the title screams "what the hell are we doing?" It doesn't have anything to do with Prom Night at all (and believe me, I would know, for all the times I've watched that insipid glorious movie), but that doesn't stop it from shamelessly cribbing from every single other significant slasher ever released. Nightmare on Elm Street is an obvious point of reference, but there's plenty of Halloween in the mix too, and even some dashes of The Omen and Poltergeist for flavor! It's a manic cash grab, the deluded flailings of a studio trying to get its fingers on the pulse of what was successful in horror at the time, but the concoction this bit of film alchemy produced is nothing but a riot start to finish. If you're looking for something to frighten you - nope, not even for a second. Prom Night II is over-illuminated, garish, and couldn't build up a scare if it was made out of Legos. If it's raw, guffaw-worthy entertainment you're after, though, this right here has it in spades. Wicked perversity, an evil rocking horse, the oldest person to portray a high schooler in a film ever, wildly inappropriate use of jazz standards...it just doesn't stop! There's never a dull moment to be seen, and if you don't mind a movie that completely fails at its original intentions only to produce something uniquely awful and hilarious, this is an absolute must.
Drew Smith
Super Reviewer
A horrible sequel, it's corny/cheesy, the dialogue is lame and so is the horror. This is one movie to stay away from.
½
If you're looking for the best Prom Night film, Hello Mary Lou is the one. As far as I'm concerned, the whole Prom Night franchise should've focused on the Mary Lou aspect. But it didn't, instead each film are different than the rest, and more often than not, don't succeed. Well Prom Night and this sequel are the best hands down.I thought this film was very effective in delivering the chills, and personally, it's my favorite in the series. The cast, I thought was awesome, especially Michael Ironside (a great talent). This delivered and honestly, I don't know why the filmmakers wouldn't focus on Mary Lou haunting the senior Prom for the rest of the series, I would've loved to see something like that. But this film is the most memorable of the series, this is the best of the Prom Night and the first one is second place.A must, you'll have a great time watching this one. Hello Mary Lou is a very cool horror film and I have to say, I think it's one of the best horror sequels. This story could have been explored further in other sequels, the third one does, but it fails to capture the chills and suspense of this film. This film put all the other films in the series. A fine horror film and definitely the best in the series. Hello Mary Lou emphasizes more on the scares and suspense this time around, and thus it succeeds in creating something that the first one lacked. The supernatural elements seem to work better than a straight forward slasher flick. Those who loved the first one will probably most likely love this entry as well. A fine, chilling horror film that will entertain the hell out of you. I also taught the ending was brilliant, Sorry won't say anything don't want to spoil it for ya!
Hello Mary Lou: Prom Night II Quotes