Hello, My Name is Doris
(2016)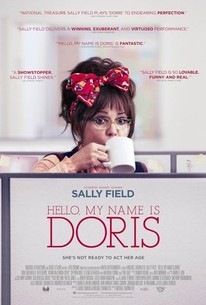 TOMATOMETER
AUDIENCE SCORE
Critic Consensus: Hello, My Name Is Doris is immeasurably elevated by Sally Field's remarkable performance in the title role, which overpowers a surfeit of stereotypical indie quirk.
Hello, My Name is Doris Videos
Hello, My Name is Doris Photos
Movie Info
When Doris Miller meets John Fremont, her company's hip new art director, sparks fly-at least for Doris. In the cluttered house she shared with her late mother, Doris mines the Internet for information on her one-and-only, guided by the 13-year-old granddaughter of her best pal Roz. When Doris begins showing up at John's regular haunts, she wins over his Williamsburg friends. Her new life brings Doris a thrilling perspective, but also creates a rift between her and her longtime friends and family, who believe she's making a fool of herself over a guy half her age. Eager for all the experiences she has missed out on, Doris throws caution to the wind and follows her heart for the very first time.
News & Interviews for Hello, My Name is Doris
Critic Reviews for Hello, My Name is Doris
Audience Reviews for Hello, My Name is Doris
½
Definitely an original story about an older woman. I felt sorry for her more than anything.
Nicki Marie
Super Reviewer
I don't think I've ever given Sally Field (is it just me or does anybody else think there should be an S in her last name) the credit she deserves for amassing a career full of strong performances. Whether it's in comedies, dramas or romance flicks, she's been a consistently good actress since she, pretty much, debuted in the mid-60s. And this movie, realistically speaking, succeeds on the strength of Field's performance. That may sound a little harsh or derisive towards this movie, but it's really not meant to be, as I found the movie to be quite good. That's just how great Sally Field is in her role. Admittedly speaking, though, the film does rely heavily on indie quirk for its humor. And there's not a problem with that, Little Miss Sunshine (one of my favorite movies of the 2000s) relied on this formula much to great success. But, let's be real here, this movie is in no way, shape or form comparable to Little Miss Sunshine. To be fair, however, I don't think this was ever meant to compete with that. What I mean by the fact that it relies on this type of humor too much is that this is just another one in a long list of quirky indie comedies. And I hate to almost sound dismissive of this movie, but there's really nothing that sets it apart from other films of this type. This is still a very well-written movie with a very interesting lead character at its core. Doris is a woman who, realistically speaking, has not been able to live her life due to the fact that she remained home to care for her mother. She used to be engaged to this man in her 20s, but she broke up with the man in order to care for her mother. Her adulthood was spent caring for her mother instead of leading her own life. Meeting new people, studying, etc. It's not that she's stuck in the past, though the fact that she hoards all of her and her mother's belongings says that she is unable to let go of the past. So, obviously, when she meets a man who's half her age, who seems to be genuinely interested in her romantically, she just dives in headfirst and completely lets loose. She finally gets to live the life and have the fun that she never got to have in the first place. That part of the movie is well-done, Doris is a very likable character and you want to see her come out of her shell that she's kept herself in, seemingly, for decades. Naturally speaking, things start to get complicated once Doris finds out that John (her crush, as it were) has a girlfriend. This obviously devastates her, but it's a bit alleviated when she finds out that the girlfriend is actually a very sweet woman. Things, however, are complicated even further when Doris (using a fake account to get to know John's likes and dislikes) leaves a comment on John's Facebook page that causes his girlfriend to break up with him. She suspected he was cheating on her. This is when Doris makes her move on John, as she tries to seduce him at this Thanksgiving party. Things end up poorly, John rejects her outright and leaves the room once Doris confesses she was the one who caused his girlfriend to dump him. On top of all of this, Doris' brother is trying to get her to sell all the junk in her house and to get her to move out. I believe his intentions were pure, I think he was legitimately worried for his sister, but the way he goes about it clearly aren't the best and end up hurting Doris more than helping. The movie hits the dramatic notes that you would expect. And I think the movie isn't great at drama, but it certainly does a serviceable enough job at it. I think the fact the dialogue was strong and the cast being top-notch certainly helped elevate some of the weaker moments. I also wish they had used Doris' co-workers far more than they did. They had Natasha Lyonne and Kumail Nanjiani as part of the co-workers and it feels like they did absolutely next to nothing with them. These two are really fucking talented and funny people. I just wish the film had used them move. With that said, the story plays out almost exactly as I had expected, but I still found that this was a good movie. Sally Field's heartfelt performance is tremendous, the film is funny and the writing is good. Some of the narrative beats are a little predictable and not super effective, but this is still what I would call a good movie. It's on Amazon Prime and I'd certainly recommend it. Not a wholehearted one, don't get me wrong, but it's a good movie that I think a lot of people will like.
Jesse Ortega
Super Reviewer
Some of the best films of 2016 have been coming from smaller, more independent studios, and while that it usually the case each year, this year in particular needs all of the little gems it can get. It what has been a pretty dour year at the cinemas, films like Eddie the Eagle, Everybody Wants Some, and The Lobster were the true surprises. Sure, audiences received a fantastic film in the highly anticipated Captain America: Civil War and were blown away by what Disney presented in The Jungle Book and Finding Dory, but they were too few and far between this year. Hello, My Name is Doris is a film that may not be for everyone, but it a great film nevertheless. Although it is not one of my favourites of the year, here is why it earns a glowing recommendation. Sally Field has been known for her elegance when it comes to the feature film world, but has also been known for starring in big blockbusters. Going somewhat out of her comfort zone, she is almost unrecognizable as this title character. After working a boring desk job for years, a new manager enters the company who is decades younger than her. Developing a very friendly and offbeat relationship with each other, this film becomes a wacky, yet believable romance film, that is one of the quirkiest films I have seen in years. Relying on the chemistry between Sally Field's portrayal of Doris and Max Greenfield's portrayal of John, audiences will either buy into their performances and end up loving this film, or they will feel the complete opposite. In my opinion, they could not have picked a better actress to portray the title character, as I found myself chuckling and smiling at almost every word she said. While I did not find myself immediately engaged at the beginning of this film, due to the very offbeat feel, I was able to adapt to the story at hand, solely due to the likeable leads. Having a woman in her early 70's falling for a man in his mid 30's is a bit of a stretch, but anything is possible when it comes to love. "Sometimes love makes you do crazy things." This is a quote in the film, which has been said for years and years by many people, but that is what I believe the message of this film is. No matter what age you are, love can trump all. These actors made you believe that a situation like this could be possible. That is where the films strong point exists. The idea of having an elderly woman partying with a young man in a club filled with techno music seems amusing enough right? Well, if you take that personality and have an actress like Sally Field give it all she has throughout the entire duration of the film, it will keep a very big smile on your face. This is also where I have a complaint. Although Sally Field gives arguably one of her best performances here, it also comes off as a bit excessive at times, and this is where I feel certain audiences members may be turned off, even if they are into the film. Her performance almost becomes a little too quirky, almost to appeal herself to the crowd that is her age. That is a minor issue, but it does linger throughout the film, annoying me on a few occasions. This is by no means groundbreaking, but the fact that I was delighted throughout the entire film definitely says something. I found myself becoming very much attached to the character of Doris, and felt that each and every side character was reacting and interacting with her as if this was a real person. There is very much a present realism surrounding this picture and although I have some issues with the film as a whole, it is just a joy to watch. The ending is definitely a conversation starter, but I thought it was perfect. I had a very good time watching Hello, My Name is Doris, and although I highly recommend it, it definitely is not for everyone.
Hello, My Name is Doris Quotes
There are no approved quotes yet for this movie.