Hellraiser: Hellseeker
(2002)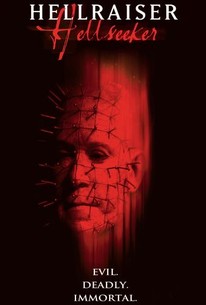 Hellraiser: Hellseeker Photos
Movie Info
When the puzzle box is solved and the gates of hell are cast open, an old nemesis must prevent the fearsome Cenobites from turning the Earth into a flaming pit of eternal torment in this installment of the long-running Hellraiser series. In his entire demonic history, only Kirsty Cotton (Ashley Lawrence) has ever had the power to defeat the mighty Pinhead (Doug Bradley). Now that the puzzle has been solved again, Pinhead is back, and Kirsty must summon the powers of light to defeat the fury of hell and send her old nemesis screaming into the fire.
News & Interviews for Hellraiser: Hellseeker
Critic Reviews for Hellraiser: Hellseeker
Audience Reviews for Hellraiser: Hellseeker
Obviously by the sixth entry of a franchise, scriptwriters seem to be scratching at the bottom of the barrel. This is the case with the sixth entry of the Hellraiser Franchise. Hellseeker is a wasted opportunity and feels like a made for TV film. People say this is worth watching because it brings back Kristy, the main character from the first three Hellraiser films back into the fold. The problem is, she's only back, but briefly. She plays an important role in this film, and the story does focus on her character, but if she's so important to the overall storyline, why is she on screen for less than 10 minutes? What a waste. The acting is pretty bad, even by direct to video standards, and the dialogue seems fake, and the interaction between the characters doesn't feel right. Also a thing that bothered me, was the virtual absence of the Cenobites, Pinhead shows up 35 minutes in and has barely enough screen time. Hellseeker is a terrible sequel, and is a waste of celluloid. Everything about this film is bad, not even Doug Bradley or Ashley Laurence where able to save this dreadful film. Clive Barker should have put his foot down, because this film is a mockery of Clive Barker's original masterwork. What makes this more insulting is that on the back of the DVD, it says that this film is far better than the original, yeah right.
One of the better movies in the Hellraiser Series, Out of the other 5 only the 1st one is better then this. Only one we see in this one is Pin Head and he makes few appearances, but the story is pretty good, more of a murder mystery with a huge twist at the end. Some pretty good nudity at times from a distance. Nothing really over the edge or scary, but its worth 4 Stars
Bruce Bruce
Super Reviewer
It's a shame to see this sequel being slated for being different. Hellseeker moves away from being another low budget, direct-to-video Hellraiser installment and instead provides an original spin on a dying franchise. This sequel doesn't need cheap gore effects to create a good Horror atmosphere, it also shows Pinhead doesn't need to physically harm his victims to make them suffer, at least not straight away ;) this makes Pinhead a more calculated character, watching him toy with his victims emotions! highly recommended!
Cassandra Maples
Super Reviewer
Hellraiser: Hellseeker Quotes
| | |
| --- | --- |
| Pinhead: | Welcome to the worst nightmare of all....reality |
| Pinhead: | Welcome to the worst nightmare of all... reality. |