Hellraiser III: Hell on Earth
(1992)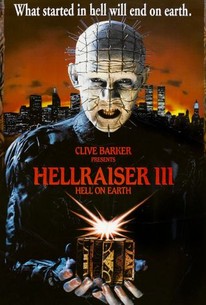 Hellraiser III: Hell on Earth Photos
Movie Info
A sleazy nightclub owner purchases a strange, disturbing sculpture, which he soon discovers contains a mysterious, ornate puzzle box. This box is a legendary object that promises the secrets of ultimate pain and pleasure, but is in fact a gateway to hell. Soon the box's new owner has unleashed the evil Pinhead, a member of a race of supernatural beings known as Cenobites. Pinhead proceeds to murder numerous clubgoers in an attempt to gain power and fully free himself into the earthly realm. He faces unexpected opposition, however, from a television reporter investigating the mysterious club murders. When she discovers the truth behind the enigmatic puzzle box, she realizes that only she can stop the carnage. However, she must not only defeat Pinhead, but his fellow Cenobites, including the barbed-wire-wrapped Barbie and the horrific CD-Head. (Yes, CD-Head does indeed kill people by shooting CDs from his head.) Though this third entry in the Hellraiser series pays lip service to the intricate mythology of the first two films, especially through a series of flashbacks to Pinhead's human past, the film soon reverts to a fairly standard slasher formula.
Critic Reviews for Hellraiser III: Hell on Earth
Audience Reviews for Hellraiser III: Hell on Earth
½
Third entry in the Hellraiser series is a pretty decent film. With a pretty interesting idea for a film. Though not as strong as the first two, Hellraiser 3: Hell on Earth is still a good enough entry in the series compared the last couple of entries. Pinhead still delivers pain & pleasure and terrifies his victims. Though at times lacking in direction, and somewhat unfocused; director Anthony Hickox does a decent job at delivering a third entry. Despite its flaws, the third Hellraiser might appeal to die-hard fans of the films. The film still has enough good elements to make it a watchable horror film, and unlike others in the series; this third film is a film worth watching. The filmmakers had enough ideas to make a good third entry, and the result is a decent to good film that if you loved the first two, then you might enjoy this film. Of course this is a step down from Hellbound: Hellraiser II, but it still delivers good, chilling elements. Though it has some interesting elements, the film feels tiresome compared to Hellbound, luckily the next sequel, Bloodline would be a much successful affair. But like I previously stated, this third entry is a decent one, but at times you see that the ideas falter on-screen, and the story ends up being so-so. Still entertaining despite its flaws, just don't expect a solid sequel such as Hellbound. Watch it by expecting something decent, and you'll most likely not be disappointed. A decent story and good terrifying elements that you'd expect from a Hellraiser film keep this from being a dud.
I was really disappointed in this movie. The previous two in the series set up rules and boundaries, and then this movie goes and breaks all the rules. The function of the cube is even lost. I got really confused too, and I understood the other two perfectly. The ending made the whole thing seem pointless as well. Overall, I didn't care for this one.
½
The films 'Hellraiser' and 'Hellbound: Hellraiser II,' weren't like anything ever seen before. They were doors into new worlds. The end of II was an open ending, so it seemed only natural that more sequels come, and 4 years later we got one. But something had changed, and not necessarily for the better. It was decided that Pinhead, otherwise known as the Lead Cenobite, would be the villain and given more to do this time around. On top of that a big studio, in this case Paramount, would be the new distributor and we all know what can happen sometimes when a big studio gets involved. If I'm making it sound like I hate 'Hellraiser III,' I don't, but like other fans I feel this is where the series began to lose it. I will as far as pace the movie moves right along. Good performances, the standout being Paula Marshall. The urban setting is a nice change of scenery. An OK score that mixes some classic 'Hellraiser' themes with some new stuff. Some really good special and visual effects. The war scenes are well done. Some excellent set pieces, my personal fave being the one in the club. Some pretty neat new Cenobites. I have a number of issues with the film that would take forever to go over but to just name a few of them, we have no real surprises or much we haven't already seen. Though Doug Bradley does a good job as both Pinhead and Captain Elliot Spencer, the fact that Pinhead is made the villain and given more screen time does make him a bit less scary and mysterious. The final confrontation is kind of disappointing. Though not at all a bad film, this second sequel to Clive Barker's ground breaking film is a step down from it's predecessors. As I said there's not much here fans haven't already seen and both Pinhead and the film are pretty much on the same level as other movie monsters of the time, which was never the idea. But still it's fun, has some style, and is far more interesting than some of the other sequels which became very hit and miss as the series went along.
David Ladd
Super Reviewer
Hellraiser III: Hell on Earth Quotes
| | |
| --- | --- |
| Pinhead: | I will enjoy making you bleed. And I will enjoy making you enjoy it. |
| | |
| --- | --- |
| Pinhead: | This is my body, This is my blood, Happy are they who come to my supper. |
| | |
| --- | --- |
| J.P. Monroe: | Jesus Christ! |
| Pinhead: | Not quite. |
| | |
| --- | --- |
| Pinhead: | Down the dark decades of your pain, this will seem like a memory of Heaven. |