Hellraiser - Inferno
(2000)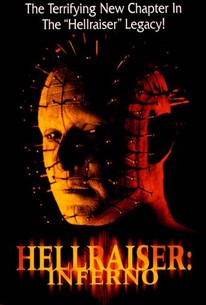 Hellraiser - Inferno Photos
Movie Info
Supernatural villain Pinhead finds himself on the wrong side of the law in this, the fifth film in the Hellraiser franchise. Joseph (Craig Sheffer) is a detective with the LAPD who one morning discovers he's no longer living in California -- he's been exiled to Hades, and the only way to escape is by solving the mystery of the all-powerful puzzle box. The box is now in the hands of the fearsome demon Pinhead (Doug Bradley), and Joseph finds himself in a life-and-death struggle with the demon for control of the puzzle box. Hellraiser: Inferno also stars Nicholas Turturro as Tony, Sasha Barrese as Daphne, Noelle Evans as Melanie, and James Remar as Dr. Paul Gregory.
News & Interviews for Hellraiser - Inferno
Critic Reviews for Hellraiser - Inferno
Audience Reviews for Hellraiser - Inferno
Different in style from its predecessors and Pinhead is thrown in, well, just to have Pinhead in it I guess. It feels like this film doesn't even belong in the franchise, but by putting "Hellraiser" in the title it well help it make some extra money. It's smart to stay away from these straight to DVD films.
Eric Shankle
Super Reviewer
Being the first direct to video sequel in the Hellraiser franchise, Hellraiser Inferno is actually pretty good. The film plays out as a cop film, but with horror elements etched into the overall plot. Hey you got to put Pinhead somewhere, right? Inferno is a departure from the traditional Hellraiser films that came before it. The film tries to break new ground, and it does work for the most part. However at times, it doesn't. Inferno is a very interesting story, and the first hour of the film steadily builds to a decent enough climax with Pinhead and the rest of the Cenobites. Not a flawless sequel, but good considering the awful ones that came after it, Hellseeker, Deader and Deadworld, Hellraiser Inferno is a refreshing new take, and it really is interesting to see. A shady detective solves the puzzle box, and he summons Pinhead and his Cenobites. While he's trying to escape Pinhead wrath, there's a killer named The Engineer and he must hunt down the killer and try to escape the wrath of Pinhead. Hellraiser Inferno is one of the better direct to video sequels that I've seen, and unfortunately for this series, it's also the last good sequel. The acting is standard for direct to video film, and it's pretty decent considering. I am pretty impressed overall, and I thought this film would have been a good end to the Hellraiser franchise, however three bad sequels later, there seems to be no end in sight. Many people have claimed that this retains the essence of the first two films, and it does somewhat, but nothing will ever top Clive Barker's original masterpiece of horror. Still, this is a worthy direct to video sequel worth checking out.
½
one thing i can't stop thinking about Pinhead, since he is on the cover of every goddamn one of these movies, is "what the fuck does he have to do with these movies?" this is my second Hellraiser that i've seen and he has just as little to do with the story as the first one. in fact, the character he played in this one it turns out could have been used to show him quite a bit in scenes, but instead they use James Remar with a beard and glasses and at the last 5 minutes he rips off his face and we're like "Oooh fffuck, that was Pinhead! you totally punk'd me, bra!" so i figure next Hellraiser, there will be a mysterious secretary figure played by Emma Stone and at the final scene, she'll be babbling some fucking spooky ass dialogue, "you see, the lamented configuration pyramid unpuzzled the door to lucifer's puberty and now its Super Sweet Satanic Sixteen Suffer-dome!" and thats when she rips her pig-face off and we see an even more atrocious head. then Pinhead says "welcome to Suffer-Dome, asshole." and he gets another 5K for blessing the set of Hellraiser: Suffer-Dome with his great talent.
Coxxie Mild Sauce
Super Reviewer
Hellraiser - Inferno Quotes
| | |
| --- | --- |
| Joseph: | Tony Nenonen: What's an eight-letter word for "slaughterhouse"? Joseph: Abattoir. Tony Nenonen: You're good! |
| Tony: | What's an eight-letter word for 'slaughterhouse'? |
| Joseph: | Abattoir. |
| Tony: | You're good! |