Hellraiser: Judgment
(2018)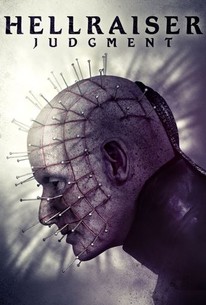 Hellraiser: Judgment Videos
Hellraiser: Judgment Photos
Movie Info
Two detectives are tasked with hunting down a horrifying serial killer who has been threatening their city. They team up with another detective to further investigate this spiraling labyrinth of terror, which seems to involve the supernatural as well.
Critic Reviews for Hellraiser: Judgment
Audience Reviews for Hellraiser: Judgment
Look, part of me really doesn't know what to make of the Hellraiser franchise. I've reviewed two of them on RottenTomatoes (as far as I remember), the second one and the third one. I remember the first sequel being quite good actually. I didn't hate the third movie, even if it was a major step down from the first sequel. Though it did have probably my favorite scene in the franchise with Pinhead doing the Jesus Christ pose in a church in front of a stained glass window with a cross on it. As an iconoclast, I loved that scene. It's a shame that it was wasted on such a nothing movie honestly. Regardless, in terms of the horror pantheon, you could say that Pinhead and the Hellraiser franchise are sort of the dark horse 'contenders' as it were. When you think of horror franchise, Halloween, Friday The 13th, Nightmare on Elm Street and Texas Chainsaw Massacre all, immediately, come to mind. Hellraiser comes on the fringes of that and, sadly, the Hellraiser franchise has not been as successful as these others that I've mentioned. I imagine that a lot of it has to do with the fact that Hellraiser takes a decidedly more satanic approach to its world. It's considerably darker and more grotesque than the others. I imagine that its satanic influences being so prevalent limits the success a film might have, since, particularly in the U.S, there's a lot of fucking religious people. I also think the fact that Pinhead himself is more of a manipulator of humans, he's not a conventional horror villain. While he has killed his fair share of people, I feel that he's better at enticing others with riches and rewards in order to get them to do his (horrifying) bidding. He's not a physically imposing monster like Leatherface, Jason or Michael. And he's not a smartass like Freddy. I don't want to say he's an unimportant character in his own franchise but, like I said, he manipulates those around him to do his bidding. So you can't really have this moment where the 'good' guy/gal in the movie kills Pinhead, because he's not gonna put himself in a position to be killed. As far as I'm concerned, however, I fucking love Pinhead, I love the design of his character and he has a more threatening appearance than any of the other horror villains I mentioned. With that said, as far as this film is concerned, which I'm certain was produced in order for Dimension to retain the rights to the franchise, it is a strange movie. I'll be honest, while there's plenty of grotesque elements, gore and blood, sometimes I feel like the movie is overcompensating. Violence has always been an important element to this franchise and this movie is no different, but part of me feels like they tried too hard in this respect. Maybe that's just me. But, with that said, there's a lot of aspects of this movie that I really enjoy. Before I get into this, though, it should be noted that my memory is a bit fuzzy on some of the Hellraiser movies that I have seen, but I do like this whole Styngian Inquisition performing grotesque trials on sinners to see what punishment will be doled out to them. The person goes over their scenes while the Auditor types it out. The assessor eats the papers the sins are written out on. He pukes it up into this sink which is connected by pipe to another room where it is dropped into a trough where the jury, three topless women with messed up faces, put their hands in the puke and then they pass their judgement. So, yea, not your everyday trial. That part of the movie I, legitimately, did like even if I felt that the movie was overcompensating. What I didn't like, however, was the lame police procedural narrative that the movie employed. These three detectives are investigating this serial killer who bases his murders around the Ten Commandments. For example, the first victim that is shown worships her dog. I mean, not literally worship, but there's a short video that's played on a loop that says she does worship the dog. God is a jealous god and thou shall not worship other deities, because I am the one true deities and other deities are just posers or something. So this is like we're watching a REALLY low-budget version of Se7en. What's the real difference between the two? Outside of the quality of each film. Sean, one of the detectives, is too involved in these murders to do his job properly. He neglects his wife, he's a drunk, blah blah blah. David, the second detective, is his brother and you know he's gonna figure into it somehow. Christine, the third detective, just got added to the case. It's all really dull and boring. I've always hated police procedurals for that very reason. They're just not that interesting to me. In terms of television, I gravitate more towards serialized shows, where the consequences from one episode are carried to the next. Breaking Bad did this perfectly. Law and Order, CSI and the like do not, unless they're two-part episodes. In short, I just don't enjoy that type of story and I really did not like it here. Much less when it's a blatant rip-off of such a superior movie in Se7en (which is the type of police procedural-esque movie that I DO like). I just think that the mystery over who this serial murderer was needed to be far more intriguing than it was. And, like I keep saying and hammering home, it was not. It was boring and dull and it dragged the movie down. Nobody wants lame police procedurals in their Hellraiser, come on now! This wouldn't be so problematic if they mixed and match. Focus a few minutes on the investigation and then go back to Pinhead and the inquisition. Sean goes to this abandoned house, that the inquisition lures sinners into for their trials. The trials go like shit and Sean is able to escape. But, sadly, the most interesting stuff in the movie is kept to a minimum. This is like 80% murder investigation and 20% of the stuff you actually came to see. Maybe my percentage distribution is a bit off, but, regardless, the murder investigation should not taken up as much of the movie as it actually did. It shouldn't be that easy to pull this off, honestly, and yet this movie makes it seem like it is. I don't really care for the human characters and they didn't really even bother to make me care. Why would we spend so much time with these human fuckers if you're not gonna bother to make them interesting??? The movie does have some interesting ideas as, later on, it's revealed that Sean is actually the serial killer and he invokes Pinhead in order to make his wife and brother pay for being adulterers (they had an affair). Pinhead kills these two out of sheer boredom, not as punishment for what they did. Regardless, at this point comes Jophiel, an angel, who orders Pinhead to release Sean as he is doing the work of the lord. Well, not the work of the lord, but they're sanctioning his actions as god feels that Sean's murders will instill fear into the sinners and they plan to let it go on. And that, to me, was really cool and, easily, the best part of the movie. That sort of feud between Pinhead and his angel and the consequences that are gonna come as a result of what Pinhead did. In many ways, and this appeals to me, you could say that Pinhead was the good guy here, he wanted the man to pay for his sins. The Auditor also wants him to pay for the lives of the innocent people he murdered. The satanic villains are actually the good guys in this installment and that fills my heart with such joy. And the movie ends on an interesting note, where Pinhead is actually made a mortal again and that might lead to a sequel, which I would actually be interested in regardless of how I felt about this. This got me thinking, though, and I was like 'fuck, man, can you imagine how better this movie would have been if it just focused on Pinhead's feud with god and his angels?' Instead, they had to ram in some poorly-written police procedural narrative with uninteresting human characters that just added nothing of value. They just took up valuable time that could have been spent on something better. So, yea, I wasn't a big fan of MOST of this movie, but the good stuff in the movie is actually really cool and that's why this movie gets 2 stars. Without the stuff that I actually liked, this would have received a lower rating, to be sure. I can't really recommend this, however. As much as there are elements of this movie that I enjoy, there's not enough of them to make this movie even decent. If you can find the 20% of the movie that is actually interesting, then seek it out. If you can't, then don't bother.
Jesse Ortega
Super Reviewer
Hellraiser: Judgment Quotes
There are no approved quotes yet for this movie.