He-Man and She-Ra: A Christmas Special
(1985)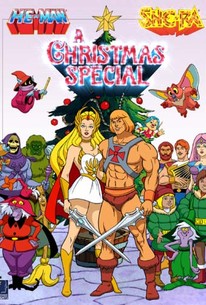 AUDIENCE SCORE
Critic Consensus: No consensus yet.
Movie Info
He-Man and She-Ra join together to stop Horde Prime from ruining Christmas for some Earth children stranded on Eternia.
Critic Reviews for He-Man and She-Ra: A Christmas Special
Audience Reviews for He-Man and She-Ra: A Christmas Special
He-Man and She-Ra unite to save the holidays in the animated feature He-Man & She-Ra: A Christmas Special. When two Earth children are accidentally transported to Eternia, Horde Prime sends Skeletor and Hordak to capture them before they're able to spread the Christmas spirit. The story is contrived and nonsensical, and does a particularly poor job at bridging the He-Man and She-Ra universes. Additionally, the animation is weak and the character designs are substandard. Uninspired and lazy, He-Man & She-Ra: A Christmas Special is a lackluster feature that has nothing to say.
Dann Michalski
Super Reviewer
I hadn't seen this since I was a kid, so my memory of it was very vague but fond and warm. He-Man and She-Ra: A Christmas Special definitely doesn't hold up, but it is charming without begin great. There's no possible way to defend it realy. It just is what it is and if you're a fan of the characters then you'll probably like it, but I'd say it's best if you share it with your kids. Not much else to say other than that.
Tim Salmons
Super Reviewer
½
He-Man and She-Ra join forces to stop their respective galleries of rogues, as well as Transformer rip-off villain Horde Prime. After a convoluted way of joining our world with Eternia (not as bad as the live-action movie) a pair of Earth Children are lost over the Christmas season. If they spread the message and joy of Christmas it could ruin Horde Prime's plans. The twins bounce between heroes and villains, before ending up with Skeletor, but surely such an evil villain as he will be immune to the warmth and happiness of Christmas. It's a lot of daft fun that brings in weirdo's such as the Manchines. With the mixture of fantasy fairies, sci-fi soldiers, monsters, medieval knights, and giant robots, it's certainly trying to cover all of its toy potential bases. The message really is in the right place, acknowledging that presents can be fun but are not everything, and that not everybody celebrates Christmas. It's the importance of its message that we should focus on. If you're an 80's child, you'll really want to see this.
Luke Baldock
Super Reviewer
He-Man and She-Ra: A Christmas Special Quotes
There are no approved quotes yet for this movie.