Hemingway & Gellhorn
(2012)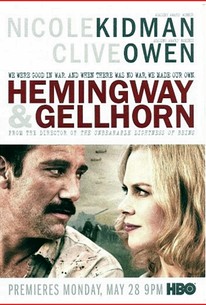 TOMATOMETER
AUDIENCE SCORE
Critic Consensus: Nicole Kidman's poised performance provides some measure of reclamation for Martha Gellhorn, but this trite historical melodrama reduces Ernest Hemingway and the era that the two war correspondents lived through into a broad caricature.
Hemingway & Gellhorn Photos
Movie Info
A 1936 meeting between novelist Ernest Hemingway and war correspondent Martha Gellhorn sparks a nine-year relationship dominated by a volatile romance that nearly rivaled the combat zones into which they threw themselves in Spain, China, and World War II.
Critic Reviews for Hemingway & Gellhorn
Audience Reviews for Hemingway & Gellhorn
½
My Week with Marilyn, take note: this is a much better model for a "biopic" with two protagonists. The film's not perfect - a little wooden and jumps around in its second hour - but it makes sure to tell both characters' stories in a way that shows each's impact on the other. Furthermore, to this film's credit, it flips the "Martha Gellhorn is a footnote to the great Ernest Hemingway" binary on its head, giving her the narrative voice and challenging us to entertain the notion that, given her long and successful career as a war correspondent, we might do better to think of Papa as a footnote in her life. What you get, as a result, is the story of the dynamic between two strong-willed writers and a film reminiscent of one of my much-neglected favourites, Henry & June, also by Philip Kaufman. It's aptly titled, as it's truly about both people, and it's a smart and important addition to the Hemingway canon... regardless of whether it's actually "about" him.
Daniel Perry
Super Reviewer
Before we get started, I just wanna say, "Damn Nicki Kidman. DAT ASS!" Sleek and perky with no VPL. I imagine that's hard to do in the sweltering heat of Key West. Nicole Kidman plays intrepid war correspondent Martha Gellhorn with spirit and guts. As the young woman, she proves to be Hem's literary and sexual equal but eventually realizes that his is a pride so crippling that it would recognize no equal. As the older woman, she wears the age make-up naturally and stretches her gravelly voice into an emotional frame story. Clive Owen cuts a mean silhouette, but he is disappointing as Hemingway overall. His natural mush-mouthed British cadence gets mangled with Papa's gruff Patrician accent. I also have yet to see an actor deliver Papa's aphorisms without making him sound like a caricature. Owen's performance is not a huge problem though since this isn't so much a movie about Ernest Hemingway as it is a movie about Martha Gellhorn, who most literari know little about beyond her being Hem's third wife. This new focus into the woman behind the man who refused to get behind a woman (except in the boudoir) is commendable and generally well-plotted. The action gets a little confusing throughout, especially due to the baseless changing of hues from sepia-tone to technicolor. The sex scenes get a bit Lifetimey too.
Alice Shen
Super Reviewer
Ernest Hemingway meets his match in the person of a fellow war correspondent, Martha Gellhorn. Despite the order of the title, this is a film about Martha Gellhorn, and it is through the lens of her life that we explore Hemingway. It's a structure that is good in theory, and the story, though as uneven and occasionally bipolar as Hem, is not one of the film's primary problems, provided one knows a lot about the politics of the time. Rather, the film mysteriously changes color like the director's four-year-old daughter wandered into the editing room; there were a few good theories as to why the film switched from color to black and white, but the next color switch defies all reason. In theory, Clive Owen is a good Hemingway, but the British actor's voice was off, and Owen's Hem is stronger when he's vulnerable, and his legendary bluster comes off like an actor chewing scenery rather than delivering a nuanced performance. By contrast, Nicole Kidman was fantastic, delivering one of the strongest performances of her career. Strong or vulnerable, Kidman is exceptional. Overall, this is a mixed bag with enough flaws too noticeable to ignore.
Jim Hunter
Super Reviewer
Hemingway & Gellhorn Quotes
There are no approved quotes yet for this movie.