Henry & June
(1990)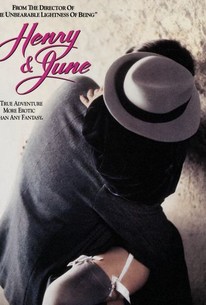 Movie Info
The real-life relationship between two of the most controversial literary figures of the 20th century forms the basis for this drama. Anaïs Nin (Maria de Medeiros) is a struggling author trying to finish her first book, a study of the work of D.H. Lawrence. She also has a keen sexual curiosity that is not being satisfied by her sweet but unexciting husband, Hugo (Richard E. Grant). Through Hugo's friend Richard (Kevin Spacey), Anaïs is introduced to Henry Miller (Fred Ward), a writer from America who shares Anaïs' passion for both eros and literature; she is later introduced to June (Uma Thurman), Henry's wife and a practicing bisexual. While Anaïs is attracted to Henry, to her surprise, she's even more strongly drawn to June; June, however, must return to America, and with her approval, Henry and Anaïs begin an affair. Anaïs' newfound sense of sexual liberation leads her to several new lovers over the next several months, but she and Henry find themselves pursuing the same object of affection when June returns to Paris. Henry & June's frank but tasteful treatment of sexual themes led the MPAA to threaten the film with an X-rating; instead, the film became the first feature released with the revised NC-17 classification. ~ Mark Deming, Rovi
News & Interviews for Henry & June
Critic Reviews for Henry & June
Audience Reviews for Henry & June
It is interesting watching a movie in 2009 made with a 1990's take on a story that take place in the 1940's. The pitch for the story is that it is an intellectual story with steamy romance, but to me it still comes off as soft core porn with an interesting plot. I have to say that I have never finished reading either Miller work I can't tolerate his open misogyny to get tot there point. Most of my focus in the movie is to Maria se Mederios and Umma Therman. Maria is delicately beautiful and her acting is very subtle. Her role in the movie is limited to voice-over, long diatribes or intercourse. I would have been more enjoyable to have her as an active participant in her life. In the end the character she portrays does not ring true to the person Anis really was. The young Uma Therman is a beautiful as ever, however the New York accent seems tacked on and would be better off left out. His relationship with Ward is really not well defined. The scenes with Maria are well defined the required manipulative qualities. If you strip away the accent this is probably here best acting role. Fred Wards fake bald head really caught my eye and is really distracting. Kevin Spacey bit part adds more to the picture than Fred Ward. Ward is better suited for blowing-up things in Tremors. Too Bad Spacy was not cast as Miller.
Bill Cavros
Super Reviewer
A remarkably graphic tale involving Henry Miller. It is surprising but rewarding.
John Ballantine
Super Reviewer
Phillip Kaufman's adaptation of the Anais Nin book of the same name is mainly remembered today as the first film to receive an NC-17 rating. This little footnote in film history will probably remain the film's only claim to fame, as I thought it was otherwise a rather lackluster production. Despite the title, June is barely in this, which makes me wonder why Uma Thurman was given first billing. The film's real star is Maria de Medeiros who is probably best remembered for playing Bruce Willis' girlfriend in Pulp Fiction. By the tenth sex scene I was pretty bored with this thing, Henry and June Miller seemed to do very little other than write and fuck, why they decided a movie needed to be made about them I do not know. It was pretty well shot and acted however.