Henry V (The Chronicle History of King Henry the Fift with His Battell Fought at Agincourt in France)
(1946)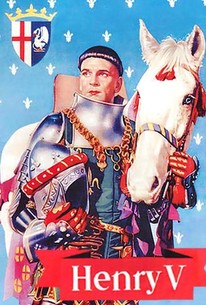 TOMATOMETER
AUDIENCE SCORE
Critic Consensus: A patriotic booster, Laurence Olivier's directorial debut and star turn as Henry V result in a sharply realized and resonant take on Shakespeare's deeply British warrior king.
Henry V (The Chronicle History of King Henry the Fift with His Battell Fought at Agincourt in France) Photos
Movie Info
Laurence Olivier's adaptation of Henry V is one of the finest Shakespeare films ever made, full of rousing action, beautiful colors, and passionate performances. Henry V is the story of the newly crowned king of England, who fights the French for possession of Normandy. Olivier's direction is inventive, beginning the film as if it were a performance at the Globe Theatre, and having it slowly expand so the final battle scenes take place in realistic settings. Released in 1944 during the height of World War II, Henry V didn't receive an American release until 1946, upon which Olivier won a special Academy Award for "his outstanding achievement as actor, producer and director in bringing Henry V to the screen." ~ Stephen Thomas Erlewine, Rovi
Critic Reviews for Henry V (The Chronicle History of King Henry the Fift with His Battell Fought at Agincourt in France)
Audience Reviews for Henry V (The Chronicle History of King Henry the Fift with His Battell Fought at Agincourt in France)
What an ingenious move Laurence Olivier made when bringing William Shakespeare's historical play "Henry V" to the big screen in 1944. The film begins with a panoramic view of a plot of land along the Thames River in London, England, as the camera moves slowly towards the Globe Theater. The year is 1600 and the patrons of the Globe Theater are being seated for the day's performance of "Henry V," the latest play written by Shakespeare. The Chorus proceeds to address the audience to use their imagination to imagine the settings within the play. The play begins and the way the actors interact with the audience is enjoyable to watch. During a scene the rains begin and the audience watches the play as it pours. We are given three scenes from the play before the movie transforms to Southampton as boats are to leave for France. That's when the siege of Harlfuer begins leading up to the Battle of Agincourt. After the play transforms to the stagesets with backdrops inspired by medieval paintings is when it starts to lull. It's a beautiful film by first time director Laurence Olivier made in color and the battle scene is realistic for its time. It just didn't have enought to hold my attention through the whole film.
Joseph Boomhower
Super Reviewer
This is Laurence Olivier's pinnacle in his film adaptations of Shakespeare's work. It is bright and colourful in a way that films were not during this time period. Potentially served as an inspiration for the British forces during the Second World War.
John Ballantine
Super Reviewer
½
"I am Henry V; I am Henry V; I am, I am!" No, wait, that's Henry VII... or IV, or VI or IX or CCLXXXII. Man, there were too many King Henrys (Though still not as many George Foremans), so one can only imagine how many adaptations they've made of the Shakespeare plays. ...Oh wait, there have only been two, and they were both done by pretty much the same person. Oh, Kenneth Branagh, he is Olivier II; he is Olivier II; he is, he is! Really, that would probably make him, like, Shakespeare XIII or something, because he and Olivier both might have been some kind of relative to that ye olde earring-wearing sonneth of a gunneth (Well, to be fair, as old as Olivier was, he might have actually been Shakespeare's kid, or more likely, Grandfather), seeing as they pretty much built their careers around those plays, too. Okay, Branagh is and Oliver was still very versatile if the film industry, yet I can see why we keep associating Shakespeare with the two filmmakers, because Shakespeare is - or was, in the case of the late, great Sir Olivier - they're game, and sure enough, Olivier played that game pretty well with, well, another film, I'm sure, because while this film is enjoyable, it goes plagued by its own ambitions, among other things. I went into this film totally unaware of its cleverly original and unique concept of dramatising an actual performance of the play in Shakespeare's Globe Theatre in 1600 before we fade into the the actual film adaptation of the play as though it was seen through the visualisations of Globe Theatre audience members. Again, it's a very refreshing concept and one that I could really get behind, were it not for the fact that it's almost a whole 30 paceless minutes into the film before we finally fade out of the Globe Theatre. Once the transition is made, the tone is shifted jarringly and it takes a while for you to get used to the transportation, even though you never really got used to the Globe Theatre segment of the film, seeing as its mixture of stage play and period film - a potentially brilliant gimmick - is absurdly overlong, jarring and ultimately leaves you to become disengaged very frequently. After you finally fall into the world of Henry V, the sailing may be much smoother, but there are still some rocky tides forged by Laurence Olivier still pumping the film with a sometimes overbearing theatrical tone that may not be as severe as it was when were seeing the actual play, but still doesn't always fit the tone, leaving our investment in the film, as a film, to go diluted. The film is an absolute mess, not merely tainted by missteps in storytelling, but missteps in ambition, as this film talks a big game, but in the long run, it doesn't deliver on everything it sets out to accomplish. However, within the ambition lays something that truly plays a large part in saving this mess of a project, almost to the point of raising it well above average: Charm. The film's intentions are noble, yet mostly unfulfilled, but where plenty of films of this type would worsen their state by drenching their ambitions in pretense, Olivier approaches the project with hight spirits and charisma, both on and off of the screen, and the film truly benefits from that, as well as certain areas of ambition that this film really does deliver on, and pretty sharply at that. Bypassing filming limitations of the '40s to produce scope, dazzle and sweep that rivals even today's examples of quality cinematography was a possible feat that only so many could accomplish, and Jack Hildyard and Robert Krasker were among those handful of visionary cinematographers. The coloring and lighting of the film is plagued by the test of time, yet it's still so flashy and lively, attracting your eyes on many an occasion, particularly those phenomenal moments of truly incredible camerawork, from sweeps and dives in the midst of action or simply a slow, steady and meditative hovering observation of the immersively stellar production designs. Another aspect that saves the film is that it is simply a film about a Shakespeare play, and the guy really knew how to produce a worthy story with scope and uniqueness, and while Olivier doesn't do this classic total justice, his production of the film and the way he portrays it make the final product, if nothing else, consistently entertaining. That entertainment value is certainly amerliorated by charm, not just the direction, but in the performance, because although several performances have dated, and were already tainted by 1600s theatrics to begin with, most everyone brings charisma to the screen, particularly Laurence Olivier himself. Okay, now, Olivier's acting isn't one to evoke "Citizen Kane" or anything, but hey, at least it's better than his direction. No, again, his direction is workmanlike, yet his performance, while not incredibly impressive, is still strong enough for him to carry this product more than he ever does behind the camera. Olivier portrays King Henry V with charm, brilliance and powerful authority, yet some degree of vulnerability and humanity, and it's all brought together by a strong presence that results in a strong lead performance that keeps you charmed and sometimes even compelled. As the curtains draw, it's easy to walk away rather dissatisfied by the jarring thematic shifts and overlong segments, all of which go plagued by an often overbearing theatrical tone that only dilutes intrigue and investment, yet you're kept from completely falling out of the film by the remarkable cinematography and productions designs, as well as much atmospheric and acting charm, with Laurence Olivier's assured lead acting performance all but making up for his missteps as director and making his vision of "Henry V" a generally entertaining production, flawed though, it may be. 2.5/5 - Fair
Cameron Johnson
Super Reviewer
Henry V (The Chronicle History of King Henry the Fift with His Battell Fought at Agincourt in France) Quotes
There are no approved quotes yet for this movie.