Her Minor Thing
(2005)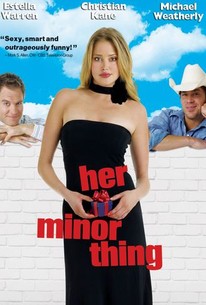 AUDIENCE SCORE
Critic Consensus: No consensus yet.
Movie Info
The ongoing war of the sexes soars to new and hilarious heights in this tale of a successful twenty-five-year old professional lusted after by every man in the city after her boyfriend reveals on live television that she is a virgin. Pursued by men who long to be her first and flooded with advice from women who implore her to punish her boyfriend for his public blunder, the one time die-hard romantic soon finds her belief in love quickly fading. Estella Warren, Rachel Dratch, Kathy Griffin, and Victoria Jackson star in a film directed by Charlie Matthau.
Critic Reviews for Her Minor Thing
There are no critic reviews yet for Her Minor Thing. Keep checking Rotten Tomatoes for updates!
Audience Reviews for Her Minor Thing
ONLY reason I rented this.. Christian Kane from Leverage (aka Lindsay from Angel) is in it. & being I'm going through some what of withdrawal from some of my shows ALREADY... I figured maybe if i watch someone from one of my summer shows I'll be ok. A Love story of course. The main guy in it is an reporter that's an idiot. & Chris plays the new guy in town. Oh yeah should I mention that the buttheaded reporter accidentally spills the beans ON LIVE TV his GF is a Virgin.. This was kinda cute & sweet I'll go for a C on this one,
Kym (c my community profile) Ragarsson
Super Reviewer
A successful and beautiful 25 year old Jeana (Estella Warren) is completely humiliated when her dashing news anchor boyfriend Tom (Michael Weatherly) reveals to the world, albeit by accident, that she's still a virgin. In the days that follow, the humiliated heroine must deal with oversexed 'suitors' who want to "make a woman out of her," the media who won't leave her alone and the pro-virginity gurus who want her as a poster girl for other women not to give into the pressure to have sex as well as women urge who urge her to get revenge over the boyfriend's blunder. Then she meets quiet photographer Paul (Christian Kane), who works with Tom but has no idea that the sexy new gal he is friends with was in a relationship with his co-worker.
It all forces her to reevaluate her romantic ideals about love and men. Our heroine is a true romantic. But will she still believe in love after all this, can she forgive her boyfriend, Will she find her one true love, or is it time to realize Tom might not be the "one" after all?
½
It was cute. Not so much of a major movie, but it was a cheesy little romatic comedy that makes you smile every now and again and then makes you go AWH!
Leigh Ryan
Super Reviewer
Her Minor Thing Quotes
There are no approved quotes yet for this movie.