Wild Grass (Les Herbes Folles)
(2010)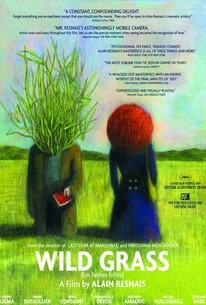 Wild Grass (Les Herbes Folles) Photos
Movie Info
A wallet lost and found opens the door -- slightly -- to Georges and Marguerite's romantic adventure. After examining the ID of its owner, it is not a simple matter for Georges to turn in to the police the red wallet he has found. Nor can Marguerite retrieve her wallet without being piqued with curiosity about the person who found it. As George and Marguerite navigate the social protocols of giving and acknowledging thanks, turbulence enters their everyday lives.
Critic Reviews for Wild Grass (Les Herbes Folles)
Audience Reviews for Wild Grass (Les Herbes Folles)
Alain Resnais proves at 87 years old that he still has a lot of imagination, delivering this curious nonsensical fable that plays with the conventions of the genre and with our expectations, and the result may feel like not much but is daring enough to be worth our time.
Carlos Magalhães
Super Reviewer
A man haltingly pursues a woman whose wallet he found. If this is the French New Wave, then I should start watching the Old Wave. In Wild Grass there is so little attention paid to good exposition that I found myself lost, wondering about the characters' relationships to each other even after the first act was a memory. And the performance by Andre Dussolier does little to reveal his character's motivations. Performances like these are good when the story is clear and solid, but Resnais's concentration is on that which is unclear, so the sum is a character who behaves strangely but whose motivations for his strangeness remain a mystery, unconnected to the random shots of weeds. And when he yells and snaps in a romantic story we wonder what the whole point is. Overall, there are people who find this absurdist alienation interesting and refreshing, but I'm not one of them.
Jim Hunter
Super Reviewer
Wild Grass has the most fantastic opening scene. We have this vivid imagery, charming narration, an endearing character, and the introduction to an intriguing plot. Everything seems set up just right to lead to something amazing. Well, the thing is, the film opens on it's highest point. While the rest it good, it just feels like a let down after the opening material. Plus, I'm sort of confused why it opens with Marguerite when she really doesn't spend as much time as Georges in the film. I mean, it just seems like she plays a more subordinate role in the thing. Anyway, that's just overanalyzing things, but still there is just something ... off about the rest of the film and I cannot totally put a finger on what it was. I did like how the story is something that at first seems conventional, but does not play out in the way that you would expect it to at all - by and large. Or rather, it guess to the places you would expect, but takes an alternate route to get there. I liked Marguerite quite a lot, but the rest of the characters are sort of forgettable. Idk, the film had it's moments and really is good. It just felt like it was missing something.
Wild Grass (Les Herbes Folles) Quotes