Hercules and the Captive Women
(1961)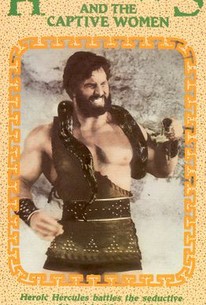 AUDIENCE SCORE
Critic Consensus: No consensus yet.
Hercules and the Captive Women Photos
Movie Info
Hercules (Reg Park) and King Androcles (Ettore Manni) are on an ocean expedition when Androcles is washed overboard during a storm near a mysterious island. Making landfall, Hercules finds that the island is the kingdom of Atlantis, ruled by a beautiful, cruel, and ambitious queen, Antinea (Fay Spain), who controls a mysterious source of power. She has transformed her personal guard into super-strong warriors -- each nearly a match for Hercules, put Androcles under her spell, and inflicted terrible wounds on her people, all in preparation for her plan to conquer the world. Hercules finds that her power stems from a source older than the gods on Olympus, one over which he has virtually no power. He must save his friend, release Antinea's people, and prevent her from carrying out her plans.
Critic Reviews for Hercules and the Captive Women
Audience Reviews for Hercules and the Captive Women
Watching some of the old MST3K episodes available for streaming on Hulu and Netflix (there is a different random selection on each platform). Whether it is Joel or Mike watching these awful movies with the bots I do not envy their torture. Their snarky comments add some entertainment value, but my ratings are based on the movie's quality itself and not the commentary broadcast from the satellite of love. The first of four times Reg Park played Hercules in the continued Italian fantasy adventure franchise. Another evil queen and Herc suffering from a sleeping potion. Dull and lacking excitement throughout.
Byron Brubaker
Super Reviewer
Campiness aside, The Captive Women was an OK entry in the series, though if they could skip half of the dialogue it might have been a better film.
Sylvester Kuo
Super Reviewer
½
From the Mill Creek Warriors 50 Movie Collection. Brave and mighty Hercules (a fine and affable performance by the brawny Reg Park) and his eager, but naive buddy Androcles (the solid Ettore Manni) journey across the ocean to the fabled city of Atlantis in order to stop evil Queen Antinea (nicely played with lip-smacking wicked aplomb by the ravishing Fay Spain) from taking over the world with her army of clone soldiers. Director Vittorio Cottafavi, who also co-wrote the eventful and imaginative script with Sandro Continenza, relates the story at a constant steady pace, maintains a serious tone throughout, and stages the exciting action scenes with rip-roaring gusto (the customary rough'n'ready swordfights are especially thrilling). Better still, this film was obviously made with a pretty substantial budget; there's a breathtaking sense of lavish spectacle to the sets and costumes which in turn makes this picture a truly sumptuous visual feast. Carlo Carlini's glorious widescreen cinematography, shot in bright eye-popping color, makes deft use of a frequently moving camera and offers a wealth of striking shots. The suitably sweeping and majestic score by Gino Marinuzzi, Jr. and Armando Trovajoli likewise hits the rousing spot. The earnest and appealing acting from a sound cast rates as another significant asset: Park portrays Hercules with winning good humor and admirable sincerity, Laura Efrikian makes for an extremely fair damsel in distress as Antinea's sweet fetching daughter Ismene, and Salvatore Furnari almost steals the whole show with his delightfully hearty turn as excitable dwarf Timoteo. The fiery mondo destructo conclusion totally rocks; ditto Hercules' battle with a lethal sorcerer who transforms into a hideous humanoid lizard beast. An immensely fun fantasy romp. 3 1/2 Stars 5-23-13
Bruce Bruce
Super Reviewer
Hercules and the Captive Women Quotes
There are no approved quotes yet for this movie.