Here
(2012)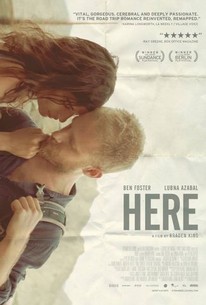 Movie Info
Set against the gorgeous landscape of Armenia, Here chronicles a brief but intense relationship between an American satellite-mapping engineer (Foster) and an expatriate photographer (Azabal) who impulsively decide to travel across the remote countryside. As their trip comes to an end, the two must decide where to go from Here. -- (C) Strand Releasing
Audience Reviews for Here
½
"Here" is Armenia where Will Shepard(Ben Foster) has come to map the country but has trouble ordering an omelette. That's where Gadarine(Lubna Azabal) comes in. She is just back from Paris where she studied photography and whose return her brother Krikor(Narek Nersisyan) is more than ambivalent about. By coincidence or this being a very small country, Gadarine and Will meet again at a reception. After which, she agrees to accompany him on his work around the country, even after being warned away from the eastern border. "Here" is a fine example of sparse and meditative filmmaking, whose deliberate pace often allows the scenery to do the talking for it. What we find is a country that while lacking amenities like basic scheduled transportation has a valuable commodity in a friendly population.(No wonder Gadarine has mixed feelings on her return.) In this day and age, it is kind of amazing that somebody could literally go off the map and find themselves in a situation where nobody speaks English. And yes, the interludes are kind of pretentious but I could listen to Peter Coyote read the phone book all day, so no complaints here.
½
An interesting film that follows an American satellite-mapping engineer traveling through the beautiful terrains of Armenia who meets Gadarine, a young nomadic photographer. Together, the two embark on an adventure marked with self-discovery, blossoming love, and a bond that has them wondering what to do next.
"Here" embodies its subject by delivering breathtaking scenery as a backdrop for passion in the unlikeliest of places. Ben Foster takes a step away from his Hollywood films and proves why he will stand the test of time as an actor, with a subtle and powerful performance as a lowly land surveyor traveling the roads of Armenia. Here (no punned intended), he crosses paths with a photographer, Gadarine (Lubna Azabal). Azabal is a talented and attractive Belgian actress who easily becomes the object of affection with her ability to look gorgeous even when angry or sad. Foster and Azabal's chemistry is undeniable, delivering the perfect antiquated love story, with emotions bubbling over, even through the heartfelt conclusion. The real star of the film, however, is the cinematography, which displays both a wide view of beautiful landscapes and a close and intimate view of the two lovers, traveling the countryside. "Here" is a labor of love, and in the process, produces something original and fresh, all while striking the same similar chords that we're accustomed to in a dramatic love story such as this.
Christopher Haskell
Super Reviewer
Here Quotes
There are no approved quotes yet for this movie.