Here Come the Girls (Champagne for Everybody)
(1953)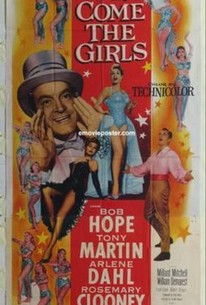 AUDIENCE SCORE
Critic Consensus: No consensus yet.
Movie Info
Originally intended as a 3D film, this standard-issue Bob Hope musical comedy was released "flat." The 50-year-old Hope plays over-aged chorus boy Stanley Snodgrass, whose attempts to get ahead in the early 20th-century theatre world always come acropper. His luck suddenly changes when he's promoted to the leading-man role in a show headlined by Irene Bailey (Arlene Dahl). What Stanley doesn't know is that he's been set up as a decoy to bring the murderous Jack the Slasher (Robert Strauss) out in the open. It seems that Jack is obsessed with Irene, and has a nasty habit of cutting all of her male co-stars into ribbons. Meanwhile, Stanley lays waste to the show by performing all of his big numbers incorrectly, but his faithful gal Daisy Crockett (Rosemary Clooney) loves him all the same. Tony Martin also appears as Irene's boyfriend, while Millard Mitchell makes his final film appearance as Stanley's stepfather (and never mind that he and Hope were the same age!) A brief clip from Here Come the Girls showed up in, of all places, the 1953 sci-fier Conquest of Space.
Critic Reviews for Here Come the Girls (Champagne for Everybody)
Audience Reviews for Here Come the Girls (Champagne for Everybody)
½
The costumes are amazingly ornate and both Arlene Dahl and Rosemary Clooney look great in them but hambone Hope is an acquired taste whose simpleton persona wears thin fast. Martin was never much of an actor but is a fine singer although he oddly does little of that. Rosemary is also underused only getting a few numbers. The supporting cast contains both Fred Clark and William Demarest both of whom add a little zest to the proceedings. Certainly colorful and not terrible it's not very memorable either.
Here Come the Girls (Champagne for Everybody) Quotes
There are no approved quotes yet for this movie.