Here Comes Mr. Jordan
(1941)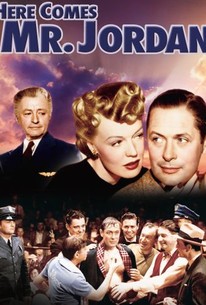 Here Comes Mr. Jordan Videos
Here Comes Mr. Jordan Photos
Movie Info
Robert Montgomery plays saxophone-playing boxer Joe Pendleton, who insists upon piloting his own plane, much to the consternation of his manager Max Corkle (James Gleason). Just before a championship bout, Joe's plane crashes. When he revives, he finds he has been whisked away to Heaven by the overanxious Messenger #7013. Checking with the man in charge, one Mr. Jordan (Claude Rains), Pendleton discovers that he isn't scheduled to die for another 50 years. Joe heads back to earth, only to learn to his chagrin that his body has been cremated. Mr. Jordan is obliged to find Joe a new body; the "candidate" is a business mogul named Farnsworth, who is in the process of being murdered in his bath by his wife (Rita Johnson) and her lover (John Emery). Joe takes over Farnsworth's body, astonishing the murderers by emerging from the bathroom, very much alive (while Joe still looks like Joe to himself and the audience, he looks like Farnsworth to everyone else). Still desirous of winning the upcoming championship, Joe begins to whip Farnsworth's body into shape, even hiring Max Corkle to manage him. It takes some doing, but Joe convinces Max that he is indeed Joe and not Farnsworth (their scenes together are priceless, far better seen than described). Meanwhile, Joe has fallen in love with Bette Logan (Evelyn Keyes), a woman whose father had been ruined by the real Farnsworth. For her sake, he pays back millions of dollars that the crooked Farnsworth had finagled out of his investors. This prompts Mrs. Farnsworth and her lover to kill "Farnsworth" again, and once more Joe Pendleton is without a body. How Mr. Jordan arranges for Joe to win the championship, expose the murderers and walk off arm and arm with Bette is a bit too complex to detail here. Here Comes Mr. Jordan is one of the most consistently clever romantic comedies of the 1940s, and richly deserving of the Oscars won by screenwriters Sidney Buchman, Seton I. Miller and Harry Segall. A sequel, Down to Earth, was filmed in 1947, with Roland Culver as Mr. Jordan; and in 1978, the original Jordan was remade by Warren Beatty as Heaven Can Wait.
News & Interviews for Here Comes Mr. Jordan
Critic Reviews for Here Comes Mr. Jordan
Audience Reviews for Here Comes Mr. Jordan
Although a carbon copy of Heaven Can Wait, Jordan is a far superior film. The characters are loveable and you truly want to see a reconciliation of matters from the heavens. Beatty would of course ruin the story in his remake of Heaven Can Wait which liberally steals from Jordan.
John Ballantine
Super Reviewer
This movie has been remade so many times, I wasn't surprised by anything that happened in this one, the original. It didn't really interest me anymore, except that some of the scenes were pretty funny. And the acting is good.
There's a reason this has been remade so many times.
Anthony Valletta
Super Reviewer
Here Comes Mr. Jordan Quotes
There are no approved quotes yet for this movie.