Hereafter
(2010)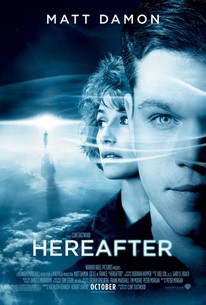 TOMATOMETER
AUDIENCE SCORE
Critic Consensus: Despite a thought-provoking premise and Clint Eastwood's typical flair as director, Hereafter fails to generate much compelling drama, straddling the line between poignant sentimentality and hokey tedium.
Movie Info
"Hereafter" tells the story of three people who are touched by death in different ways. George is a blue-collar American who has a special connection to the afterlife. On the other side of the world, Marie, a French journalist, has a near-death experience that shakes her reality. And when Marcus, a London schoolboy, loses the person closest to him, he desperately needs answers. Each on a path in search of the truth, their lives will intersect, forever changed by what they believe might -- or must -- exist in the hereafter.
News & Interviews for Hereafter
Critic Reviews for Hereafter
Audience Reviews for Hereafter
½
Clint still seems obsessed with the mortality issue, but it is clear that he doesn't know what he is doing with this esoteric babble that lacks focus and purpose, presenting three poorly-written stories combined without any fluidness and leading to a corny ending that is simply lamentable.
Carlos Magalhães
Super Reviewer
½
Clint Eastwood has always made very good films, and here he crafts something is riveting, thrilling and captivating, and it's a film that is quite underrated and is an overlooked film that is much better than what the initial reviews have stated. The film has its weak parts, but overall, it's a solid affair, that is salvaged by terrific performances by its cast and a good storyline. I quite enjoyed the film's story, and thought that the concept was quite good as well. Matt Damon does some very good work here, and is aided by a great cast of varied talent, that all of whom really deliver something worthwhile on-screen. This is a well directed drama from Clint Eastwood, a director who has always managed to craft some entertaining and memorable films. Although not one of his finest efforts, the film is worth seeing and is quite good for what it is, but at times it could have been slightly better as well as the story does slow down a bit at times. Nonetheless due to terrific direction from Clint Eastwood and memorable performances from its cast, Hereafter works well enough to grab your attention for two hours of solid entertainment. Although not one of Eastwood's strongest directorial efforts, this most certainly not his worst either. If you enjoy a well crafted drama with good performances, Hereafter is a worthy film to watch. The picture tells a very good story, one that does deserve more praise than it does, and for what it is, it's a film that tells a very good story and despite its shortcomings is quite enthralling from the first frame onwards, and under the capable direction of Clint Eastwood is a worthwhile affair.
A long movie dealing with response to death - involving three non-related people. To me, the connection between the three was contrived, so I thought it didn't end well.
Hereafter Quotes
| | |
| --- | --- |
| George: | ''If your worried of being on your own, don't be your not'' |
| George: | If your worried of being on your own, don't be your not. |
| | |
| --- | --- |
| Billy: | ''You have a duty to do it, because it's a gift'' |
| Billy: | You have a duty to do it, because it's a gift. |
| George: | ''It's not a gift Billy, it's a curse'' |
| George: | It's not a gift Billy, it's a curse. |
| | |
| --- | --- |
| George Lonegan: | If you're worring about being on your on, don't be, you're not |
| George Lonegan: | He says if you're worried about being on your own, don't be. You're not. |
| | |
| --- | --- |
| Marie Lelay: | You know, as a scientist and atheist my mind was closed to such things. |