Hero at Large
(1980)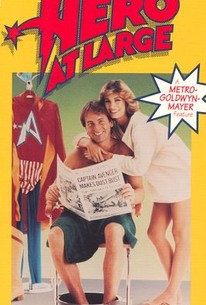 AUDIENCE SCORE
Critic Consensus: No consensus yet.
Movie Info
John Ritter plays an unsuccessful actor who takes a job posing as comic-book hero Captain Avenger at comics stores and conventions. While thus garbed, Ritter foils a grocery store robbery. He skedaddles from the scene when the cops show up, leading witnesses to assume that he is a genuine costumed superhero, the sort that shows up to foil the villains and then modestly retreats after his job is done. Ritter is hired by the mayor's staff, who hope that the Captain Avenger tie-in will help the mayor win an upcoming election. This plan comes acropper, and Captain Avenger finds himself on the outs with the public. Prodded by his girlfriend Anne Archer to be himself and not rely on a costume and mask to gain adulation, Ritter becomes a bonafide hero when he rescues several citizens from a fire. Thanks to the enthusiastic performance of John Ritter, Hero at Large remains amusing even when you know what's going to happen next (a common occurrence in this film).
Critic Reviews for Hero at Large
All Critics (3) | Top Critics (1) | Fresh (1) | Rotten (2) | DVD (1)
Hero at Large is a big, dumb, silly, good-hearted albatross of a comedy that may find an audience among John Ritter fans but did not find one with me.

Hero at Large elicits a few laughs, a thrill or two and a climactic bucket of tears.
Audience Reviews for Hero at Large
½
John Ritter plays a guy who's not very different from himself or any of the other roles I've ever seen him in, so it's not a stretch for him to play. The other actors are okay, but no one really stands out. The plot is predictable, and I swear I've seen at least two other movies exactly like this one. It is an entertaining movie, though, with a few laughs, but overall it could have been better.
This feel good movie stars John Ritter as a do gooder trying to come clean. I miss John Ritter because his acting is so pure that it is hard to find an actor today that can come close. Ann Archer was pretty good but sort of fake in this role. I have always liked this movie and it still shows a true actor with Ritter as the lead!
Matthew Liptak
Super Reviewer
½
John Ritter was one of those actors that had big success on television, but never managed to transfer that success to the big screen. Which is a real shame, because he's probably one of the most easily likeable actors ever. Who better to play a regular guy who becomes a hero not because of the things he can do, but because of who he is. He plays an unemployed actor who takes a job making public appearances as the hero "Captain Avenger" to promote a movie of the same name. One night he thwarts the robbery of a liquor store, in full Captain Avenger costume, and creates a citywide frenzy for people starved for a hero. He takes it upon himself to stand up for the little guy, and try to make his city a better place. He gets a bit over his head, and the danger becomes all too real for him one night. He also learns the potential trappings of being a public hero, when a shifty promoter, played to sleazy Hollywood perfection by Bert Convy, talks him into making more "rescues" under the pretense of giving the city what they want, when all he's really trying to do is hype the movie. He finds an ally in his next door neighbor played by Anne Archer. Even though they try to discredit him, and tear him down, in the end he proves himself a real hero, both to himself and the city. Ritter was a gifted comedic actor, and his lighthearted touch to this movie makes it very believable. He's a nice guy that believes in what the character of Captain Avenger stands for, and he brings it to life in what is possibly one of the most honest, purest "superhero" movies ever made.
RJ MacReady
Super Reviewer
Hero at Large Quotes
There are no approved quotes yet for this movie.