Heroes for Sale
(1933)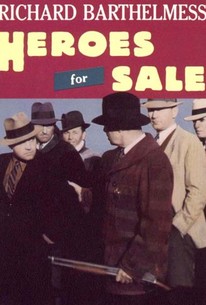 Movie Info
What isn't Heroes for Sale about? Within its 71-minute time frame, this film (co-written by "professional cynic" Wilson Mizner) tackles such issues as disenfranchised war veterans, misguided hero worship, drug addiction, the Depression, capitalism, labor relations and communism. Richard Barthelmess plays a wounded war hero whose hospital stay has turned him into a morphine junkie. He wanders from town to town looking for work during the Depression, only to be turned away with a "we've got our own to watch out for!" Eventually, Barthelmess befriends millionaire-in-the-making Robert H. Barrat, who has invented a revolutionary washing machine. Becoming Barrat's partner, Barthelmess attempts to quell a strike by workers who've been stirred up by Red agitators. With all this going on, Barthelmess still finds time to romance Loretta Young. Heroes for Sale is very much a product of its time, though its entertainment value has remained solid for well over six decades.
Critic Reviews for Heroes for Sale
Audience Reviews for Heroes for Sale
½
socialist depression era classic, also notable as the last hollywood film to reference drug use for more than 20 years, until preminger's 'man with the golden arm' in 1955. loses some impact with the studio mandated 'everything will be ok with fdr' propaganda ending
Stella Dallas
Super Reviewer
½
The consensual iconography within 1930s would be the conceits of endurance during the gritty Great Depression and the everlasting anticipation of Messiah - Roosevelt's New Deal, and such conceits are commonly seen in mass culture in this period . William A Wellman's pre-code depression social satire Heroes for Sale (1933) has followed this waiting-for-Messiah mindset, and this film is about a WWI veteran whose credit of bravery was stolen by his comrade, and he deteriorates into a dope-fiend due to the wound he receives during the war. The real hero of the state is not rewarded but rebuked for his severe sufferings. Later on, our rehabilitated hero accepts an anarchist philosopher's invention and applies it to the laundry factory he works for, and that has catapulted both of them into millionaires but also caused the loss of jobs for great many factory workers, who congregate as a mob to protest and damage the community properties. Therefore our guilt-stricken protagonist donates his entire fortune into charity funds for the un-employed meanwhile volunteers to be a drifter wandering around the American railways in a state of abjection. This film has tackled many controversial issues in 1930s, and it suggests the injustices from the state and the idle rich as well as the technophobia of the early stage of industrialization in which humans are made obsolete and going to be substituted with the machines. (This idea was even more famously discussed in Chaplin's Modern Time) Furthermore, it also projects a sense of disbelief over the leftist anarchism, which is doomed to be corrupted by the seductions of wealth and leisure in the capitalist society. Despite its stark comments upon many depression issues, the ending retreats into the pacifist depression-conceits: endure more and wait for the Messiah, and our honorable protagonist shall be the heroic figure of the American commoners, who just grind their teeth and cross their fingers at the hope for the better tomorrow. Even the movie selects the reactionary path at last, but it still relentlessly reveals its loss of faith over the state.
Veronique Kwak
Super Reviewer
½
The second film in TCM?s great depression series was even more of an unexpected treat. Director William Wellman is far from the most famous director of early Hollywood, but he?s really pretty important, having directed such films as Wings, The Public Enemy, and The Ox-Bow Incident and Wellman brings a lot of talent to this story of success and failure during hard times. The film depicts a World War One veteran who finds he can?t make ends meet in the country he fought to protect. When he does finally find some success he finds that trying to help his fellow workers is hard to do in a society that is actively hostile towards any attempt to help the working class. This is another film that captures the desperation of a country on the brink, and the film really gets better and better as it goes on. This could make a very interesting companion piece to William Wyler?s The Best Years of Our Lives.
Heroes for Sale Quotes
There are no approved quotes yet for this movie.