The Heroic Trio (Dung fong saam hap)
(1993)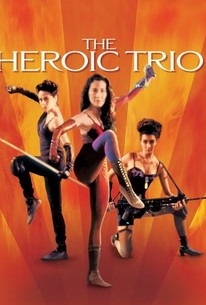 The Heroic Trio (Dung fong saam hap) Photos
Movie Info
This film is essentially a comic book brought to life, from Hong Kong directors Siu-Tung Ching and Johnny To. Wonder Woman (Anita Mui) is the traditional superheroine, like Batman or the American Wonder Woman. While attempting to solve the kidnapping of male newborn babies, she runs across the mercenary Thief Catcher (Maggie Cheung). They find that The Invisible Woman (Michelle Yeoh) is a pawn to an ancient wizard who has been stealing the infants to genetically create an army of warriors. With kung-fu movie acrobatics, The Heroic Trio doesn't try to hide its comic-book conventions in order to suspend disbelief, unlike American superhero adventures such as Batman, The Crow, and Spawn, all films that enshroud themselves in style and atmosphere to win credibility. The resulting work is far less powerful or emotionally moving, but it is certainly campy and entertaining.
Critic Reviews for The Heroic Trio (Dung fong saam hap)
Audience Reviews for The Heroic Trio (Dung fong saam hap)
Utterly ridiculous comic book-style popcorn movie filled with insane laugh-out-loud action sequences. Will test your tolerance for campiness and inappropriately bouncy keyboard-driven soundtracks. People ride barrels propelled by dynamite, motorcycles become twirling projectile weapons, indescribable worlds exist beneath manhole covers, heads are severed with throwable bladed chainmail beekeeper helmets, bodies stripped to muscle and bone continue to fight, papers blow around in enclosed laboratories, and hospitals are the most frequent locations for violent crime. And that's just for starters. Amid all this crazed silliness they somehow assembled the ultimate Dream Team of female Hong Kong talent: Anita Mui, Michelle Yeoh, and Maggie Cheung! Unbelievable, on top of unbelievable! I watched this because it ranked #47 on YesAsia's Top 100 Hong Kong Films of the Nineties list, and it decidedly earns its place for the casting alone. There's an enormous amount of dementia in this movie's DNA to overcome but in the end I had fun. I will allow that I would probably add a half-star if I saw a subtitled version instead of this juvenile dub, but at least it was widescreen.
Doctor Strangeblog
Super Reviewer
Awesomeness abounds in this amazing superhero film. Anthony Wong is great as Beast, a man raised to be a monster. The action is fantastic and there is enough baby killing to keep anyone happy. Great villains, great heroes, great movie.
Christopher Brown
Super Reviewer
Holy monkey jebus, where to start: -Ching Tun Sung (i'm spelling it bad for sure) is the action director here, so fast and wild fights are a safe bet -Anthony Wong plays the bad guy sidekick. He uses none other than a flying guillotine as main weapon, and his entire role consists of him growling and doing crazy poses -Not since Hard Boiled so many babies were used as props for action sequences -There is a fight sequence involving the 3 main actresses and a skeleton doll. I shit you not. -Rad theme song -Jhonnie To was the director, way before he started to develope his now trademark style -Do i even need to mention that Yeoh, Mui and Cheung look boing-tastic trough tthe whole movie? -Did i mention that i'm still hard? In other words, this movie shouldn't even exist at all, probably ended up here from some strange bizarro dimension where kick-assness is part of everyone's daily meal. That this movie hasn't made our universe implode is a damn miracle. Damn, i miss the good ol days of the HK movie industry, where things like this were the bread and butter of every day. So, in other words, this movie is camp+cheese+radness+hot women+political criticism (women saving male babies in China!) all role into one brain-smasher cocktail. You either drink it or it drinks you.
Tsubaki Sanjuro
Super Reviewer
The Heroic Trio (Dung fong saam hap) Quotes
There are no approved quotes yet for this movie.