Hero's Island
(1962)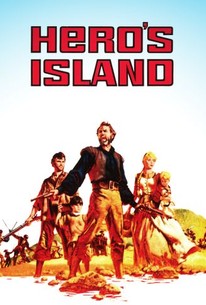 AUDIENCE SCORE
Critic Consensus: No consensus yet.
Movie Info
Former indentured servants settle on a small island off the coast of Carolina in hopes of starting a new life. They are plagued by fishermen who claim the island for their own. A woman's husband is killed in an attack and stranger Jacob Webber (James Mason) is washed ashore. He claims to be the only survivor of an attack by pirates. When the merciless Kingstree (Neville Brand) is employed by the attackers, a seaman named Nicolas (Rip Torn) decries the impending violence and is throw off the boat to die. He makes it to the island where he falls in with the settlers to defend against the invasion. Kingstree discovers Webber is the former henchman of Blackbeard the pirate. Kingstree is killed by Nicolas, the man he threw off the boat. Webber flees the wrath of the settlers and rejoins his band of bloodthirsty buccaneers to escape death once again. The film is produced, directed and written by Leslie Stevens.
Critic Reviews for Hero's Island
There are no critic reviews yet for Hero's Island. Keep checking Rotten Tomatoes for updates!
Audience Reviews for Hero's Island
½
There's some nice location scenery to look at and James Mason delivers a decent performance as do some of the supporting players but this moves at a crawl for the first hour and even when it picks up towards the end it still isn't that exciting. The main actress is stiff and uncharismatic a major defect since so much of the story revolves around her. If you're a fan of pirate movies there are many others that would satisfy better than this, Blackbeard the Pirate with Robert Newton and Linda Darnell chief among them.
Hero's Island Quotes
There are no approved quotes yet for this movie.