He's Out There
(2017)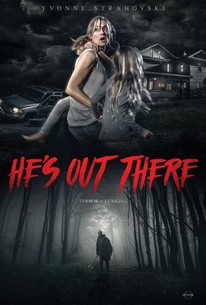 Movie Info
On holiday at a remote Canadian lake house, a mother and her two young daughters must fight for survival after falling into a terrifying and bizarre nightmare conceived by a psychopath. For 'John' has been lurking in the shadows for years every time the family took a holiday and even left a children's picture book to help them cope with the terrifying scenario he has meticulously planned. Will husband Shawn manage to make it to the house in time to stop the carnage? Can local handyman Owen put a stop to the madness? Watch, and learn the stark truth!
Critic Reviews for He's Out There
Audience Reviews for He's Out There
½
Yvonne Strahovski stars in the indie horror film He's Out There. The story follows a family that heads out to their lake house for a relaxing weekend, but they soon find themselves being stalked by a mysterious figure lurking in the shadows. Strahovski gives a fairly strong performance and the two child actors are pretty good as well (and being real life sisters helps). Also, director Quinn Lasher does an impressive job at building suspense and at creating an atmospheric tone. But there's not much of a plot or character development; particularly in regards to the killer, whose identity and motives are left largely unexplained. However, there is a clever use of a storybook motif that gives the film a dark fairy tale like mystique. While it's kind of a by-the-numbers home invasion film, He's Out There is well-made and delivers some chilling scares.
Dann Michalski
Super Reviewer
½
If you want to read the review I wrote for this, go to letterboxd.com/HankIsDead514. I can no longer post long reviews on here and I'm not writing two separate reviews for the same movie.
Jesse Ortega
Super Reviewer
He's Out There Quotes
There are no approved quotes yet for this movie.