Hesher
(2011)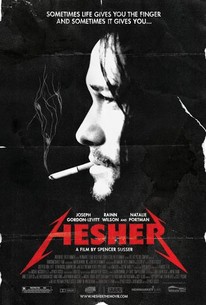 TOMATOMETER
AUDIENCE SCORE
Critic Consensus: It has a dark sense of humor and a refreshing lack of sentimentality, but like its title character, Hesher isn't really interested in going anywhere.
Movie Info
Loud music. Pornography. Burning **** to the ground. These are a few of Hesher's favorite things. And they are what Hesher (Joseph Gordon Levitt) brings into the lives of TJ (Devin Brochu) and his father, Paul (Rainn Wilson) when he takes up residence in their garage uninvited. Grief-stricken by the loss of TJ's mother in a car accident, Paul can't muster the strength to evict the strange squatter, and soon the long-haired, tattooed Hesher becomes a fixture in the household. Like a force of nature, Hesher's anarchy shakes the family out of their grief and helps them embrace life once more. --(c) New Market Films
News & Interviews for Hesher
Critic Reviews for Hesher
Audience Reviews for Hesher
½
I hear movies get called a "dark comedy" quite a bit, and usually it's either not funny, or not dark. "Hesher" is exactly what a dark comedy should be. The subject matter is very serious, and in a lot of ways heartbreaking. But there are so many crazy and funny things that happen, that this movie will not bring you down. In a lot of ways this is like the tv show "Shameless". You will root for some of the characters while hating them for what they do. A quick synopsis since most people have probably never heard of this. An anarchist named Hesher(Joseph Gordon Levitt) moves in, uninvited, with a father(Rainn Wilson, who surprisingly is the the complete straight man in this) and his son TJ. TJ's mom has died in a car accident and he and his fathers lives have spiraled downward since, especially since his dad is so grief stricken that he can't even change his clothes. Hesher is rude, perverted, loves heavy metal, and loves to set fire. Basically, the perfect person to bring a family back together. Levitt is outstanding here and just gives one of his best performances. Natalie Portman has a glorified cameo, but she does great also. But the main star and best job of the movie is TJ(Devin Brochu). This kid is amazing. I'm a sucker for movies were kids are damaged and they are constantly battling their emotions. Brochu should have gotten more attention for his performance, because it's fantastic. I heard about this in 2011 and just never got around to watching it. I'm glad I finally did, and would strongly recommend people give it a shot. Not for everyone, it's a true independent movie, but it's very entertaining, and original.
Everett Johnson
Super Reviewer
½
This is the story of a dirty, dangerous, downright psychotic and unpedictable metalhead named Hesher who starts squatting in the living room of a family wrecked by grief over the death of a loved one. It's really about the bullied boy TJ, and how Hesher makes his life worse, but could perhaps be helping him, though the way he goes about doing this is just vulgar, nuts, and unconventional. Joseph Gordon-Levitt is awesome as Hesher. It's the kind of performance that reallly allows a performer to cut loose and just do something really out there. It's a great performance, though it feels like the film is mostly relying on him to carry it. That's kinda the biggest issue with the film. It's got some great ideas and a cool concept, but the way it is done leaves a lot to be desired. The other performances are good, however, they're all underwritten, even Hesher. It would have been better had there been more backstory and depth with the characters,because they deserve to have more known about them. I was torn on how to rate this one. It does have the script issues, and it does start to fall apart towards the end, yet, Levitt is awesome, there's some crazy stuff on display, and it's really not all that predictable at times. It can be uncomfortable at times, but it does come around in the end. I'll just give it the benefit of the doubt and give it a mild pass, though it really does need some work.
Chris Weber
Super Reviewer
Hesher Quotes
| | |
| --- | --- |
| TJ: | what the fuck are you doing? |
| TJ: | What the fuck you doing? |
| | |
| --- | --- |
| TJ: | "What is wrong with you?" |
| TJ: | What is wrong with you? |
| | |
| --- | --- |
| Hesher: | Whats green and slimey and smells like bacon? |
| Hesher: | What's green, slimy, and smells like bacon? |
| | |
| --- | --- |
| Hesher: | You lost your wife, You lost your mom, I lost a nut. |