Hey Happy!
(2001)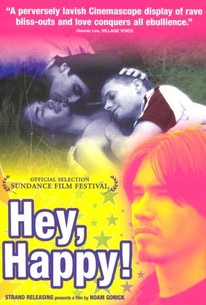 Movie Info
Society as we know it may have been lost, but sex and dancing are still in style in this outrageous post-apocalyptic satire. In a not-so-distant future where a variety of environmental disasters have led to the final collapse of Western civilization, sexually ambiguous hipster Ricky G. (Johnny Simone) leads an encampment of rave kids who have created a makeshift city on the outskirts of Winnipeg. One of the community's leading citizens is porn-merchant and disc jockey Sabu (Jeremie Yuen), whose inexhaustible sexual appetite has led him on a mission to seduce 2,000 men before a looming flood destroys the village. Sabu is close enough to hitting the magic number to have chosen the special man he wants to be Mister 2K -- Happy (Craig Sftanas), an attractive if socially inept science buff who is able to communicate with alien life forms. However, Sabu has a rival for Happy's affections -- body-modification advocate and hair stylist Spanky (Clayton Godson), who tries to foil Sabu's plans by abducting Happy. Hey, Happy! was the first dramatic feature from Canadian independent filmmaker Noam Gonick.
Critic Reviews for Hey Happy!
Audience Reviews
There are no featured reviews for Hey Happy! at this time.
Hey Happy! Quotes
There are no approved quotes yet for this movie.