Hi, Mom!
(1970)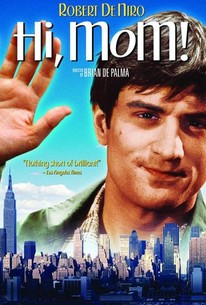 Movie Info
Writer/director Brian DePalma's sequel to his 1968 counter-culture comedy "Greetings" is an even wilder attack on the insanity of bourgeois life in modern America. Although the film focuses on an amateur pornographer who tries to turn professional, the highlight is an extended sequence of a white-liberal audience being thoroughly humiliated and abused by the African-American cast of the avant-garde play "Be Black, Baby!"--which is being broadcast on the "NIT" ("National Intellectual Television") network!
Critic Reviews for Hi, Mom!
Audience Reviews for Hi, Mom!
½
This movie is more of a documentary about radical New York film and theatre groups in 1970. It's really uneven and all over the place, and the end doesn't make any sense. Overall, it's interesting, but not a good movie.
My guess is it's a 'you'll get it or you won't' kind of movie. Personally I found it a pleasantly surprising quirky film and the title of course reveals itself toward the end. Some quite controversial issues rise and as regards to storytelling, this is not such a straight forward film in the usual sense, in fact in many ways it's quite arty.
Lady D'arbanville
Super Reviewer
Continuing the hilarious scenario fro Greetings, this is an even better film with a lot more direction and better acting. Robert De Niro continues to dominate the screen as Jon Rubin, the suave peeping tom/porn film-maker. His sense of humor and deranged sincerity is like no other actor. He tries to go professional after coming back from Vietnam, where he found himself at the end of the previous film. This has an extreme sense cultural relevance of the late 60s-early 70s, dealing with the hippie culture, the end of the civil rights movement, etc. It's just so full of life that you can't help but admire Brian De Palma for shooting reality. While some might say it's a black comedy, I feel that it's just as much an accurate reflection of New York at the time.
Conner Rainwater
Super Reviewer
Hi, Mom! Quotes
There are no approved quotes yet for this movie.