Hick
(2012)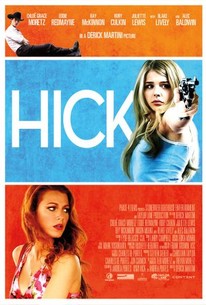 TOMATOMETER
AUDIENCE SCORE
Critic Consensus: Hick's talented young star is ill served by a film whose story wavers between discomfitingly inappropriate and simply muddled.
Movie Info
Small town teenager Luli (Chloe Grace Moretz) escapes to Las Vegas, leaving behind her alcoholic and abusive parents. Armed with her smarts, a pistol and pocket money, she hitchhikes her way west. Along the way, Luli crosses paths with Eddie (Eddie Redmayne), an unstable rebel with questionable motives and Glenda (Blake Lively), a cocaine-snorting drifter on the run. Adapted from the critically acclaimed novel by Andrea Portes, this powerful story pulls you into a provocative world of drugs, seduction and murder. -- (C) Phase 4 Films
News & Interviews for Hick
Audience Reviews for Hick
MisterYoda ?
Super Reviewer
A coming of age story about Luli, a 13-year-old girl who decides to run off to Las Vegas after her parents abandon her. Events along the way will force her to grow up. This is not a feel good film. This is a film about the likely consequences of a teenage runaway. Because of this there are a few scenes which are inappropriate for younger viewers. There are two implied near rape scenes against the girl (the only thing shown is the girl getting pushed around). This film has been getting trashed by most reviewers and I cannot really understand why. The acting is terrific, particularly Chloe Grace Moretz as Luli. The story was compelling. The only fault with the movie is its screenplay which moves the story along much too slowly. Direction is fine, if unspectacular and the director does what he can. The main issue with the movie is that their are too many characters being introduced who seem like they are important and than removed from the film. Still, this movie is very good for the performances alone and worth a watch 4 stars
Bruce Bruce
Super Reviewer
½
Mostly liked this. The story jumps around a little and can be hard to follow, but it's interesting and cast all put in good performances. I tend up like little movies set in small town USA and this ticks most of the boxes. The ending was a surprise I didn't see coming. Not a twist exactly, more a wtf just happened?! Chloe is great, I think she's been impressive in all I have seen her in. Blake is also good here, very different role for her, but she pulls it off. Ending a little vague and possibly disturbing considering this girl is 13, but I guess she grew up fast and life at home not great, so not going to judge. Overall worth a watch if you like indie films and don't need it all spelt out for you.
Nicki Marie
Super Reviewer
Hick Quotes
| | |
| --- | --- |
| Eddie: | "The rich get richer and the poor get the picture." |
| Eddie: | The rich get richer and the poor get the picture. |
| | |
| --- | --- |
| Glenda: | "You like whiskey?" |
| Glenda: | You like whiskey? |
| Luli McMullen: | "No." |
| Luli McMullen: | No. |
| Glenda: | "What are you, some kinda communist?" |
| Glenda: | What are you, some kinda communist? |
| | |
| --- | --- |
| Glenda: | "Church is for brunettes." |