Hidalgo
(2004)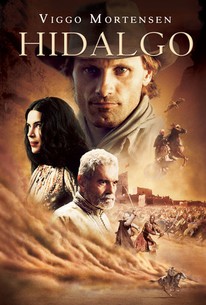 Movie Info
Held yearly for centuries, the Ocean of Fire--a 3,000 mile survival race across the Arabian desert--was a challenge restricted to the finest Arabian horses ever bred, the purest and noblest lines, owned by the greatest royal families. In 1890, a wealthy sheik invited an American, Frank T. Hopkins, and his horse to enter the race for the first time. During the course of his career, Hopkins was a cowboy and dispatch rider for the U.S. cavalry--and had once been billed as the greatest rider the West had ever known. The Sheik puts his claim to the test, pitting the American cowboy and his mustang, Hidalgo, against the world's greatest Arabian horses and Bedouin riders--some of whom are determined to prevent a foreigner from finishing the race. For Frank, the Ocean of Fire becomes not only a matter of pride and honor, but a race for his very survival as he and his horse attempt the impossible.
Critic Reviews for Hidalgo
Audience Reviews for Hidalgo
½
This is a period piece centering around a rugged western hero who decides to prove himself by being the first westerner to enter into a gruelling desert horse race in the Middle East, hoping ot prove that his American horse Hidalgo is just as good if not better than any of the Arabian horses he's up against. The film is very schmaltzy, sappy, and emotionally manipulative, and some of it does work, but a lot of it fell flat for me. Viggo Mortensen's presence helps things out a lot, and there;s some wonderful cinematography, but some of this was just really too cheesy for me. That, and I really don't care for the opening stuff involving the Native Americans. It jsut comes off as forced, unnecessary, pandering, and really mishandled. It shouldn't even be in here, really. Also, Omar Sharif is a great guy, but give him some better material to work with, especially a character who we're supposed to like (in the end), but can't buy how it gets to that point. Yeah, I'm ripping on this movie, and some of it is just nitpicking and personal issues, but really, this film just isn't that special or all that memorable even. Go with Seabiscuit instead, or, now that it's out, War Horse.
Chris Weber
Super Reviewer
Hidalgo is a terrific action adventure following the legend of Frank T. Hopkins and his Mustang horse, Hidalgo. The film is about a race known as the Ocean of fire a long distance race across the Arabian desert. Hidalgo is a fairly entertaining adventure and is a film that deserves a lot more credit than it deserves. Sure the film is at times uneven, but it manages to be an entertaining and thrilling adventure that is simply loads of fun. Viggo Mortensen is good in his portrayal of Frank Hopkins. Hidalgo is basically a story of attempting the impossible. The film has Western elements, but it doesn't evoke a sense of nostalgia found in viewing such epic Spaghetti Westerns of old. The film is pretty well crafted and the pacing of the story is well thought out meaning the film is never too dull or boring, it's always exciting and thrilling. October Sky director Joe Johnson helms this film and does yet another terrific job and making a film that doesn't have a specific demographic in mind. Johnson is a splendid filmmaker and Hidalgo is yet another solid picture that proves his talents further. A surprising casting choice is Omar Shariff (I thought he was dead long ago) He plays a decent role in Hidalgo also was more famous for playing Ali in the epic masterpiece Lawrence Of Arabia. Hidalgo is an action packed film that the whole family will surely enjoy. The film is never boring, or dull and theres always something going on to keep the pace of the film going.
½
Different from most any western this crossbred tale of a crossbred cowboy horseracing in arabia is itself a crossbreed, has interesting legs and succeeds in entertaining.
Kevin M. Williams
Super Reviewer
Hidalgo Quotes
There are no approved quotes yet for this movie.