The Hidden
(1987)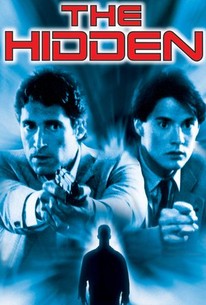 Movie Info
A cop discovers that there's something unusual about his new partner in this unusual sci-fi thriller. A seemingly well-mannered stock broker one day snaps, robbing a bank, stealing a Ferrari, and driving straight into a police barricade without any thought for his own safety, and he's mowed down by a hail of bullets. The detective assigned to the case, Tom Beck (Michael Nouri), thinks that he notices a strange look in the eye of the thief, but when FBI agent Lloyd Gallagher (Kyle MacLachlan) informs Tom that he's also been assigned to the case, he thinks that he sees the same curious look in Lloyd's eyes as well. Lloyd also has an odd way of carrying himself, as if he's not entirely in control of his own body, and in time, Tom discovers what the two men have in common -- both are actually aliens from another planet. They are creatures from another world capable of entering a human (or animal) body at will and using it as a vessel as long as they need. When the stockbroker died, the rogue alien simply crept into another body to begin his crime spree all over again. Lloyd has been sent to Earth to bring the thief's reign of terror to a halt and has taken over the body of an FBI agent with that in mind. A major cult favorite, The Hidden also features Clu Gulager, Ed O'Ross, and Claudia Christian.
Critic Reviews for The Hidden
Audience Reviews for The Hidden
½
Well made sci-fi/action combo, showing you don't need a lot of money, or convulted stories, to make a fine sci-fi flick.
Tsubaki Sanjuro
Super Reviewer
½
Jack Sholder's Sci Fi horror yarn is a highly entertaining film that is a highly engaging experience from start to finish. Although some elements here are a bit predictable, nonetheless The Hidden is an accomplished horror film that will certainly appeal to genre fans. Sholder crafts something truly amusing here, and it has a familiar touch of Cameron's Terminator. Successfully mixing action with Sci Fi, The Hidden is a well executed horror film. The concept here is interesting and Sholder keeps the ball rolling with a tight script that is a bit flawed here and there, but there are enough effective elements to really keep you involved from start to finish. Despite its clichéd ideas, the film is a lot of fun, and worth checking out. If you enjoy the genre, give it a shot. The cast do a good here, and there's enough action and horror here to make this a film that is much better than what it may seem. The Hidden is an inventive film that delivers constant thrills. Like I said before even with a familiar formula, the film is a worth viewing experience and is a must watch for genre fans. This is one of those films that needs to be rediscovered due to the fact that it is among Jack Solder's finest works in the horror genre. The plot is very good as well, and is never boring despite its imperfections. In terms of Sci Fi horror, The Hidden is a noteworthy addition, and it uses its clichés to its advantage to create a rousing hour and a half of memorable, cheesy entertainment.
A police detective puzzled by a rash of crimes in which seemingly ordinary, law abiding citizens suddenly become Ferrari stealing, bank robbing psychopaths comes to realize that the real perpetrator is not of this world. The Hidden could probably best be described as The Terminator meets David Cronenberg. The interesting concept is that an alien criminal comes to Earth and physically possesses its victims (with the help of some gruesome special effects that have stood the test of time surprisingly well), moving from body to body when the host becomes too damaged. This provides the perfect set up for some outrageous action sequences featuring machine gun toting strippers, police station shoot outs and high speed car chases punctuated with just the right amount of dry, tongue in cheek humour. Not only that, but the script is far more inventive than that of the average space monster B-movie and features a cast of faces that will be familiar to fans of cult TV series Twin Peaks as well as a blink-and-you'll-miss-it bit part for Danny Trejo. The resulting cocktail is a fast paced, funny and hugely entertaining sci-fi shoot 'em up that's something of a forgotten gem.
The Hidden Quotes
There are no approved quotes yet for this movie.