Hidden Figures
(2017)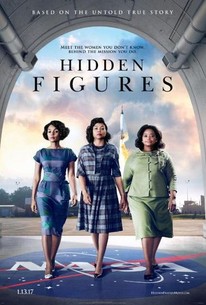 TOMATOMETER
AUDIENCE SCORE
Critic Consensus: In heartwarming, crowd-pleasing fashion, Hidden Figures celebrates overlooked -- and crucial -- contributions from a pivotal moment in American history.
Movie Info
HIDDEN FIGURES is the incredible untold story of Katherine G. Johnson (Taraji P. Henson), Dorothy Vaughan (Octavia Spencer) and Mary Jackson (Janelle Monáe)-brilliant African-American women working at NASA, who served as the brains behind one of the greatest operations in history: the launch of astronaut John Glenn into orbit, a stunning achievement that restored the nation's confidence, turned around the Space Race, and galvanized the world. The visionary trio crossed all gender and race lines to inspire generations to dream big.
Critic Reviews for Hidden Figures
Audience Reviews for Hidden Figures
Delightful history lesson about the black female mathematicians who helped NASA bring people into space. There are a couple of unpleasant scenes reminding the audience of the ridiculousness of race segregation in the 1960s, but overall the mood is pretty uplifting and optimistic. The end is pretty exciting even if you know how things worked out. A fantastic cast makes for several really touching scenes. A pleasure of a film and a story worth being told.
Hidden Figures follows the narrative formula of many sports movies. We get the injustice, the teasing, the dirty looks, the undervalued appreciation for their ability and then that come from behind moment where everyone is proven wrong. It's all served in a pleasing, well-photographed family friendly creation. The overlooked advances from individuals forgotten by history can provide a cutting edge perspective into a historical event. As a piece of entertainment, Hidden Figures is entertaining enough. However, the sentimental uplift of this Hallmark greeting card of a movie doesn't scratch beneath the surface to plumb the depths of their experience. I can imagine that these women faced egregious behavior that undermined their human dignity. One would think Langley Research Center would be a place where analysis and intellectual ability was focused on much more than skin color. Apparently not. The screenplay doesn't examine harder. I wish it had delved deeper and examined why. This cursory study is content to present predictable tropes that are de rigueur for any tale of an underdog. These brave women deserve a powerful story, but Hidden Figures never expands beyond a shallow exploration to get to the heart of their struggle. The screenplay by Allison Schroeder and director Theodore Melfi is an inspirational saga of intellect triumphing over racism in a PG-rated tale. Hidden Figures is a feel-good diversion that will hopefully inspire people to study further. fastfilmreviews.com
Mark Hobin
Super Reviewer
In times when an escapist musical such as La La Land is being widely lauded as the film "we all need right now," Hidden Figures is essential viewing. Full review on filmotrope. com
Carlos Magalhães
Super Reviewer
Hidden Figures Quotes
There are no approved quotes yet for this movie.