Hidden in America
(1996)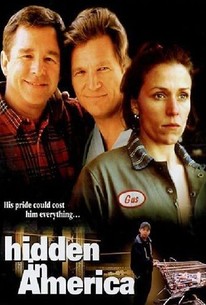 AUDIENCE SCORE
Critic Consensus: No consensus yet.
Movie Info
This drama explores the real but often unseen problem of poverty in America. After getting laid-off, a widower father and his children are reduced to dire poverty. Part of the problem is that the father is too proud to accept welfare. Fortunately a caring doctor lends a helping hand.
Critic Reviews for Hidden in America
Audience Reviews for Hidden in America
½
Beau Bridges is superb as Bill Januson, a decent, hard-working man who has been dealt two devastating blows. First, he lost his 17-year job on an assembly line in Michigan and then, his wife died of cancer. Now Bill is trying to support his two children with a part-time job at a hamburger place and forced to cope with his family's descent into poverty. His fierce pride takes a further dent when he meets a doctor (Bruce Davidson) who wants to help the family after his daughter`s health deteriorates due to malnutrition. The two kids in the film (Shelton Dane and Jean Malone) have big parts that they fill admirably and Frances McDormand adds a nice touch as the concerned mechanic who Robbie meets one day while skipping school. It is a very upsetting film to watch and makes you stop and relish just how lucky you are. Jeff Bridges also has a brief cameo as a surgeon. The credits end with the following caption: On any given night, up to 5 million children in America go to bed hungry. How many of us will wake up in the morning and think about solutions?
We need to stop worrying so much about other countries & start worrying about our own then this kind of crap wouldnt be happening in America
Brody Manson
Super Reviewer
Hidden in America Quotes
There are no approved quotes yet for this movie.