High-Rise
(2016)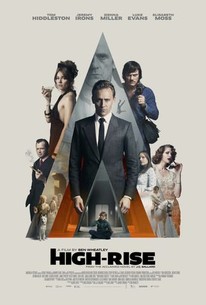 TOMATOMETER
AUDIENCE SCORE
Critic Consensus: High-Rise may not quite live up to its classic source material, but it still offers an energetic, well-acted, and thought-provoking take on its timely socioeconomic themes.
Movie Info
HIGH-RISE stars Hiddleston as Dr. Robert Laing, the newest resident of a luxurious apartment in a high-tech concrete skyscraper whose lofty location places him amongst the upper class. Laing quickly settles into high society life and meets the building's eccentric tenants: Charlotte (Miller), his upstairs neighbor and bohemian single mother; Wilder (Evans), a charismatic documentarian who lives with his pregnant wife Helen (Moss); and Mr. Royal (Irons), the enigmatic architect who designed the building. Life seems like paradise to the solitude-seeking Laing. But as power outages become more frequent and building flaws emerge, particularly on the lower floors, the regimented social strata begins to crumble and the building becomes a battlefield in a literal class war.
News & Interviews for High-Rise
Critic Reviews for High-Rise
Audience Reviews for High-Rise
Watching High-Rise left me in an agitated state of bafflement. I was desperately trying to fumble for some kind of larger meaning, or at least some kind of narrative foothold from this indie movie about a high-rise apartment complex where the rich reside at the top and the lower classes below. I was holding onto hope that what came across as messy, incoherent, and juvenile would magically coalesce into some sort of work of satiric value. This hope was lost. Director Ben Wheately's (Kill List) movie is disdainful to audience demands, disdainful to narrative, disdainful to characters that should be more than vague metaphorical figures against the British class system. The social class commentary is so stupidly simple. At one point, the upper floor rich talk about how they have to throw a better party than the lower floor plebs (slobs versus snobs!). The movie lacks any sort of foundation but just keeps going; I would check how much time was left every fifteen minutes and exclaim, "How is there still more left?!" This is a chore to sit through because it's so resoundingly repetitive and arbitrary. You could rearrange any ten minutes of the movie and make nary a dent in narrative coherence. There are some striking visuals and weird choices that keep things unpredictable; it's just that I stopped caring far too early for anything to have mattered. Tom Hiddelston plays a doctor in the building and becomes the intermediary between the oblivious rich and the rabble rousing and vengeful poor. I can't tell you why anything happens in this movie. I can't say why the characters do what they do, why the events happen, why anything. It's all just weightless materials for Wheatley's empty impressionistic canvas. As society breaks down, things get violent and yet the movie is still boring. I was hoping for something along the lines of Snowpiercer but I got more of a pulpy Terence Mallick spiral of self-indulgent nothingness. High-Rise is a highly irritating and exasperating movie and I know it's destined to be a future favorite of the pretentious. If anyone says it's one of his or her favorite movies of all time, please kindly walk in the other direction as fast as you are able and then tell an adult. Nate's Grade: D
Nate Zoebl
Super Reviewer
"High-Rise" is decidedly low budget. Atrocious lighting, sound and acting are but the ground floor of the problems with this tear-down of a film. The dialogue and script should have been condemned before the public was allowed in. Despite its constellation of perplexing luminary talent, any curb appeal this film might seem to have merely conceals a crumbling foundation of unskilled directing. Sadly, this project is in sore need of a remodel.
Christian C
Super Reviewer
With this disastrous adaptation of J. G. Ballard, Ben Wheatley only proves that he is an awful director who has gotten a lot more attention than he deserved. Full review on filmotrope. com
Carlos Magalhães
Super Reviewer
High-Rise Quotes
There are no approved quotes yet for this movie.