High Road
(2012)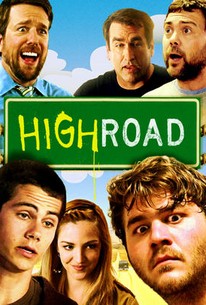 AUDIENCE SCORE
Critic Consensus: No consensus yet.
Movie Info
Upright Citizens Brigade co-founder Matt Walsh directs this improvised comedy about a pot dealer who goes on the lam with his teenage neighbor following a botched drug deal. When his band decides to call it quits, floundering Glenn "Fitz" Fitzgerald (James F. Pumphrey) starts selling weed to support his girlfriend Monica (Abby Elliott), and winds up befriending his 16 year old neighbor Jimmy (Dylan O'Brien). Meanwhile, fame comes fast to his former bandmates, but "Fitz" can't seem to get an even break. When a deal goes sour and "Fitz" must flee, Jimmy comes along for the wild ride. Saturday Night Live alumni Horatio Sanz also stars in a comedy featuring Zach Woods, Matt L. Jones, and Lizzy Caplan.
Critic Reviews for High Road
All Critics (2) | Fresh (2) | Rotten (0) | DVD (1)
"High Road" is never going to find mainstream success and acceptance. The acting is too hit-and-miss, and as a whole the movie is too uneven for that to happen. Which is unfortunate because it really is a blast.
Audience Reviews for High Road
Get it? The movie's called High Road because the movie involves a stoner who goes on a road trip with a 16 year old kid. Ha ha! The wit! Seriously though, this film isn't bad. It has a good cast and some clever lines, perhaps a little on the inconsistent side, but certainly a more than solid watch. I don't have much to say really, it's a fun little movie if you're looking for something quick that doesn't require too much brainpower to sit through. I think it could've been a little better, it also could've used a little more Ed Helms, whose talents were severely underutilized here. Perhaps Ed Helms being in the movie, if even for 5-10 minutes, helped the movie get some funding and they can also use him for promotional posters to get people familiar with The Office or The Hangover interested in it just because he's in the flick. But, again, while he is an important character in the story of Fitz and Monica, he doesn't get that much screen time, which is unfortunate. As mentioned, the film is pretty good with a talented cast, it could've been much better but I can't complain too much with what I got here.
Jesse Ortega
Super Reviewer
"I just wanted to watch a funny senseless movie. I'm really bad at picking these since they always turn out to be crap. But hey, at least I always finish them. This was a little bit funny. But mostly just bad. I'm not sure why I thought this would be funny. I just always end up picking odd movies. Some are really rare jewels and some, like this one, are just huge turds. Yep I said turds. Obviously I won't be giving this one a second look. You may like this though. What I think of as a turd can be a jewel for you. LOL. Ok I'm gonna stop saying turd and end this.. TURD! Yeah I'm a little immature."
♥˩ƳИИ ƜѲѲƉƧ♥
Super Reviewer
High Road Quotes
There are no approved quotes yet for this movie.