High Road to China
(1983)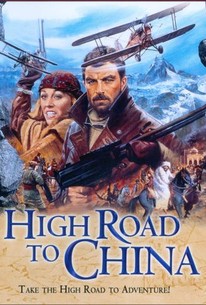 AUDIENCE SCORE
Critic Consensus: No consensus yet.
High Road to China Photos
Movie Info
Set in the 1920s, this adventure stars Tom Selleck as crack biplane pilot O'Malley, who is hired by a wealthy heiress (Bess Armstrong) to find her disappeared father (Wilford Brimley).
Audience Reviews for High Road to China
You ever get the feeling that sometimes actors never live down that one role they know they should've taken? It's well known that Tom Selleck turned down the lead in Raiders Of The Lost Ark. Although he went on to great success on Magnum PI, and basically becoming a tv legend, Indiana Jones was the role that could've given him the successful big screen career that has pretty much eluded him. In an attempt to cash in on the success of Raiders, Selleck stars in this story of a WWI flying ace that is hired by a rich bitch to find her missing father before he is declared dead, and she loses her pampered lifestyle. Many of the elements that made Raiders a success are there....a dashing and charming leading man, exotic locations, big scale action, romance, humor, etc. But what's not there is inspiration. This is a very by-the-numbers production. Where Raiders was an homage to the great serial plays of the 30's, this movie is made like one. The characters are painted in very broad strokes. The villains to everything except twirl their mustaches in very Snidely Whiplash manor, and we expect a black and white title card to pop up over their faces with sayings like "You'll never stop me! Ah ha ha ha!" The romance is pretty much dead in the water. There's no reason for these two people to fall in love, but they do. There's also really nothing at stake in this movie except for who get's daddy's money. The actors, for the most part, do give it their all. It's a shame that Selleck never achieved success in movies. He's a very talented and charismatic actor that just oozes charm and good will. You can't help but like the guy. Bess Armstrong plays the spoiled brat very well, and you can't help but wonder if this is just art imitating life. Jack Weston is the comic relief as Sellleck's mechanic and best friend. Wilford Brimley appears late in the movie as Armstrong's father, and he is a effortlessly believable as he ever is. The biggest stumbling blocks are the villains. Robert Morley is far too goofy to make a threatening villain, and Brian Blessed as an Arab chief does nothing more that eat, laugh, and bare his teeth like does in every movie. However the action is quite serviceable, if unremarkable. It's large scale, and includes bi-plane dogfights, bombing runs, gun fights, car chases, etc. The photography is also quite good. The vistas in the movie, shot in Yugoslavia, and really beautiful. So let this be a lesson to all actors out there...if Steven Spielberg comes to you and says "I want you to star in my next big budget action movie" you say...YES!
RJ MacReady
Super Reviewer
½
Action all the way in this extremely entertaining film. Good leading performances by Tom Selleck (the air-ace hero), Bess Armstrong (the headstrong lass) and Wilford Brimley (an eccentric father and inventor).
Dean McKenna
Super Reviewer
High Road to China Quotes
There are no approved quotes yet for this movie.