High Tension (Switchblade Romance)
(2005)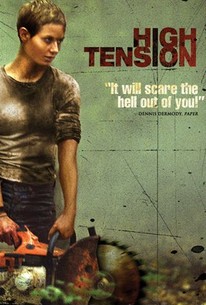 TOMATOMETER
AUDIENCE SCORE
Critic Consensus: There is indeed a good amount of tension in this French slasher, but the dubbing is bad and the end twist unbelievable.
High Tension (Switchblade Romance) Photos
Movie Info
French filmmaker Alexandre Aja writes and directs the slasher film Haute Tension, given the English title Switchblade Romance. Best friends Marie (Cécile De France) and Alex (Maïwenn Le Besco) go out to the countryside to visit Alex's parents. However, a homicidal delivery man (played by Philippe Nahon from Gaspar Noé's brutal movies) ends up at their house and starts killing everyone. Alex and Marie fight for their lives with help from several means of weaponry. Switchblade Romance was shown at the 2003 Toronto Film Festival as part of the Midnight program. The film was aquired by US distributor Lions Gate Films in 2004 and quickly put into turnaround as an NC-17 release, though plans for that were scrapped due to a lack of theater support of the controversial rating. Retitled High Tension, the R-rated version is missing one minute of grisly gore and features a redubbed audio track by star Cécile De France. ~ Andrea LeVasseur, Rovi
News & Interviews for High Tension (Switchblade Romance)
Critic Reviews for High Tension (Switchblade Romance)
Audience Reviews for High Tension (Switchblade Romance)
½
A trashy and extremely gory slasher that does have its tense moments here and there but sinks like a rock with an incredibly stupid protagonist and a twist so awful, retarded, offensive and absolutely nonsensical in the end that it should leave most people utterly infuriated.
Carlos Magalhães
Super Reviewer
½
Part of the 'New French Extremity' movement, Alexandre Aja's 'Haute Tension' (High Tension/Switchblade Romance) is a heart-pounding horror that will have you at the edge of your seat...before slapping across the face for caring. Cécile De France plays Marie, a young woman who is on a business trip with her friend Alexia (Maiwenn). Whilst on their journey the two stop off at Alexia's remote family home, only to find themselves as prey to a demented killer. Haute Tension is very effective for it's first hour, managing to continually crank up the tension without ever stopping for a break or feeling drawn-out. In this respect, the film is masterfully paced, with Marie jumping from one set piece to another in a fashion that doesn't feel as forced as other films of the same genre. Music and sound is also used incredibly well throughout the film, with flourishes being added to moments of potential dread and heightening the sense of unease. Aesthetically the film feels as if it is a homage to the exploitation films of the late 70s, with realistic yet over the top Craven inspired violence being at the centre of the films narrative. With everything being said it would seem as if Haute Tension was set up to be a classic, and it would be, that's if it didn't effectively ruin itself in the last 20 minutes with a twist that felt tacked on ridiculous, and rendered everything before it pointless. Verdict: It's amazing if you pretend a quarter of it doesn't exist.
Cameron Sherwell
Super Reviewer
In preparation for upcoming exams, co-eds Marie and Alex head out to the country home of Alex's family for a quiet weekend of rest and studying. Things start out well enough, but all that changes when, in the dead of night, an intruder comes lurking, plunging everyone into a night of unrelenting horror. This is apparently an unauthorized adaptation of a Dean Koontz book, but since it's one I'm not familiar with, I can only judge this one on its own terms... ...and in that regard, this is a gloriously awesome horror/suspense thriller. Yeah, it delivers the goods where the gore and mayhem are concerned, but this is also really appropriately named, since this film does have an extreme level of tension, suspense, and intensity. I'm not kidding. This is a real nail biter the vast majority of the time. The plot is pretty basic and bare, and there's not a great amount of dialogue, but I'm totally fine with this being a relentless cat and mouse affair. The film does contain a huge plot twist, and it's one of the most divisive in recent memory. I'm mostly in favor of it, as it adds a whole new level of twistedness to the lurid story, and actually holds up pretty well. Yeah, it's not airtight, but most of it works without having to do too much stretching. A lot of people seem to hate it, but I rather appreciated the fact that it doesn't spoon feed everything. That's a rarity in general, but especially for an exploitation film like this. co-writer/director Alexandre Aja himself even said that the plot really isn't important, and it's more about the mood, atmosphere, and tone more than anything. That's fine, and I applaud them for making the focus primarily on the building and maintenance of suspense. They are successful with that goal, but even then it's not a total excuse for a something with such a thin plot. The film's art direction, set design, sound design, heck, all the technical stuff is wonderful. You really feel the chaos that the characters are going through. It's well shot, and, where the effects go, they are brilliant. The bloodshed isn't nonstop, but when it hits, it really delivers with some effectively gruesome effects that were superbly done practically by renowned effects man Giannetto De Rossi. Performancewise, the cast do a solid job, conveying most everything through actions and what sparse dialogue here is, and in the case of the two female leads, I really gotta commend them for the expert manner in which they get put through the wringer and really deliver. Philippe Nahon is likewise quite creepy and effective, and proves quite memorable as well. All in all, this is a fantastic film. It's not perfect, but it works a lot better than it should. It manages to both please gore hounds and those who love to gorge themselves on atmosphere and suspense. It also pulls off some great homages to the past while standing on its own feet, so definitely keep an open mind and give this one a go.
Chris Weber
Super Reviewer
High Tension (Switchblade Romance) Quotes
| | |
| --- | --- |
| Alex: | The problem is, he's got a girlfriend he doesn't want to split up with. |
| Marie: | Why are you so interested, then? |
| Alex: | Someone who's taken must be worth it. I'm skeptical of single guys. |