Highlander 2: The Quickening
(1991)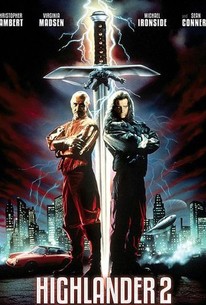 Highlander 2: The Quickening Photos
Movie Info
At the end of Highlander, Juan Ramirez (Sean Connery) died and Connor MacLeod (Christopher Lambert) was rendered mortal. "Highlander 2: The Quickening begins in 1999 when Connor solves the problem of an ever-depleting ozone layer on the earth by devising a giant shield around the entire planet. The earth is saved, except for the fact that it is now a continual 99 degrees, and the earth is plunged into 24 hours of darkness. 40 years later, Connor is an elderly man with liver spots, heading out for the opera. Then there is a flashback of Connor recalling his halcyon days on the planet Zeist hundreds of years earlier. Back on Zeist, Connor and Ramirez led a futile coup against the ruling dictator, Katana (Michael Ironside), that caused them to be banished to Earth. Back in the future, Katana sends a pair of wacky goons to kill Connor. When Connor lops off their heads, he is now young again...and immortal. Just the right time to meet the attractive scientist Louise Marcus (Virginia Madsen), who has discovered that the shield around the earth is no longer needed since the ozone layer has repaired itself. But, unfortunately, the shield is in the clutches of an evil cartel who wants to control the earth's resources. Connor and Louise team up to battle the cartel while Katana sends out more emissaries to get Connor. Ramirez, although supposedly dead, also makes an appearance in the 21st century -- garbed in full Scottish regalia.
Critic Reviews for Highlander 2: The Quickening
Audience Reviews for Highlander 2: The Quickening
½
The Renegade version of H2 is one of my favorite "so bad it's good" movies ever!!
Christopher Heim
Super Reviewer
The first Highlander was a terrific action, fantasy Science Fiction film that was highly entertaining, and delivered some impressive thrills, memorable action and a great soundtrack. But this sequel, fails to entertain and it's a ridiculous, poorly made film that just doesn't satisfy. This sequel has been said that it ranks among one of the worst films ever made, well I have seen far worse than this, but nonetheless, it's pretty bad. Whatever you've enjoyed about the original is ruined due to a lacking script, poorly constructed action scenes and lack of any memorable moments. I am a big fan of the first film, and I was somewhat hoping that the reviews for the follow up were somewhat false, but they are pretty accurate in describing the film. What really makes this a pitiful sequel is the fact that it the potential of being so good, but the filmmakers just didn't seem to care at crafting a worthwhile follow up to a classic action film. This is just lazy filmmaking at its very worst, and the film is just tedious, incoherent, and pointless in the way that it handles its story and ideas. I had high hope for this one, but like everyone else, I was let down by the lack of good ideas, effective action and good performances. The original Highlander had great performances, a terrific concept and well executed action scenes, which is something that this follow up does not have. Don't expect anything this film, as it fails to entertain and it's a mess from start to finish. If only the filmmakers would have put much more effort into this film, maybe it would have been good; however it's a pointless, unnecessary film.
Opposed by a ruthless corporation, an Immortal investigates whether it's time to remove the ozone shield he suggested blanketing around the Earth, all while he's being hunted by another Immortal (either an alien or a visitor from the past, depending on which version you see) bent on unmotivated revenge. Understandably, this nonsensical, incompetent sci-fi action comedy that changed all the rules and brought back Sean Connery from the dead was an insult to fans of the first HIGHLANDER movie. If, however, you come to it with no attachments to the Highlander mythos, it's an amusing wreck: you watch director Russell Mulcahy make one bad decision after another, fumbling action sequences, adding embarrassing comedy relief, and including a bizarrely bloody train hijacking where riders are slaughtered by improbable G-forces.
Highlander 2: The Quickening Quotes
There are no approved quotes yet for this movie.