Highlander: Endgame
(2000)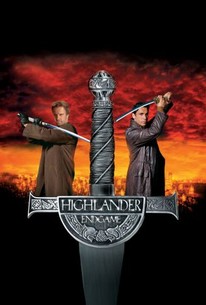 Highlander: Endgame Videos
Highlander: Endgame Photos
Movie Info
In this fantasy adventure tale, Connor MacLeod (Christopher Lambert) and his kinsman Duncan (Adrian Paul) are "Immortals," members of a secret clan who can be killed only through decapitation. Connor and Duncan find themselves thrown into a tournament where Immortals both good and evil battle one another in a bid to become the last of their kind. Highlander: Endgame was the fourth feature film in the Highlander franchise, but its narrative draws from the storyline of the Highlander television series and ignores the events of the second and third films.
Critic Reviews for Highlander: Endgame
Audience Reviews for Highlander: Endgame
An awesome and spectacularly entertaining action-packed thrill-ride. A dazzling, thrilling and breathtaking movie. A worthy sequel combining both the film and television franchisees together in one great flick. Loaded with great fight scenes and swashbuckling sword-play. A film of great passion, emotional power, character studies and gripping storytelling. The most powerful and unforgettable film in the series. Adrian Paul and Christopher Lambert are magnificent, the chemistry between the two is flawless. A nice slice of great popcorn action movie fun. An instant classic. My favorite Highlander movie ever.
I'm a big fan of the first Highlander movie but I can't say I watched the tv series. So I guess I was just kinda indifferent when I heard that a movie/series crossover film was being made. The two previous Highlander sequels were a mixed bag(Highlander 2 gets my vote as one of the worst films ever made). I have to say that Endgame is not a awful film, but that, ultimately, is not much to boast about either. This sequel feels more like a movie of the series than a sequel to the other movies. Christopher Lambert (The original Highlander) reprises his role as Connor Macleod and Adrian Paul stars as his distant cousin Duncan Macleod (hero of the TV series). The two cousins must join forces if they are to stop the ultimate immortal, fellow Highlander Jacob Kell from winning the prize. Although Connor Macleod is in this movie, this is definitely Duncans movie. The movie starts off well enough.... Connor's adopted daughter (whom he saved in the first movie) is murdered in an explosion by an unknown enemy, and Connor goes into seclusion, not wanting to bring death to those around him. Through flashbacks, we then see why this murder took place. The Clan Macleod, after banishing Connor from Glennfinnin, put Connors mother on trial for heresy (giving birth to the spawn of Satan) Connor returns to the village to stop them burning her at the stake but is too late. In anger he kills two priests, a father and son. However the son, Jacob, comes back as an immortal hell bent on revenge. Back in the present Duncan is having visions of Connor and employs the help of his friends Methos and Dawson to help track Connor down. They find out Connor went into seclusion in a place called the Sanctuary, a prison for immortals who no longer wish to participate in the game. When the Sanctuary is attacked and all its inmates killed, Duncan fears the worst and goes in search of Connors body. However, Connor is still alive and meets up with Duncan. Since his murder at the hands of Connor, Jacob has become the ultimate immortal, with many immortal kills (More than Connor and Duncan combined we later learn) and its up to the Macleod cousins to stop him. Connor and Duncan confront Kell and Connor and Kell fight. Connor is defeated, but again, left alive as Jacob Kell wants he and Connor to be the last immortals left. Kell announces that he will kill all the people that Connor holds dear, and with Rachel dead Duncan is the only person in the world Connor "gives a damn about". Duncan is on borrowed time. Unfortunately, after this scene the movie goes downhill fast as we are subjected to a pointless subplot for the next 50 minutes involving Duncan and his ex-wife Kate (now called Faith), who is played by an actress employed more for her looks and willingness to get naked than for her acting ability, it seems. Duncans ex-wife has teamed with Kell in a bid to get revenge on Duncan, who killed her years ago and made her an immortal too. The story then turns into a trifle of melodramatics and love triangles between Duncan, Kate and Kell take up too much valuable screen time that could and should have been used to focus on the Connor/Kell feud. Connor is absent throughout much of the middle of this movie and Duncan is left to fill it with brooding and Paul's questionable acting talent Another detractor from the movie is Kells band of sidekicks, a motorcycle riding band of cheap, camp, fodder..all with their own ridiculous costumes and unique "weapons". Even the usually great Donnie Yen is wasted, and apart from his one fight scene with Duncan, does nothing much else for the whole movie but sit there. (total waste of his talents). And the idea of immortals working for another immortal baffles me to no end but I'm not a huge fan of the Highlander series outside of the 1st film so maybe a Highlander fan more in the know could explain this to me. All in all this movie was very badly written for the most part and not enough time is devoted to Connor after the first half hour. The last 20 minutes are okay, when the two Macleods make the ultimate decision on how they will stop Kell, and the final fight is good (if badly edited). I would skip this one unless you are a die hard fan of the films and have watched a lot of the series.
David Ladd
Super Reviewer
TV and movie series clansmen Duncan and Connor MacLeod, respectively, must decide who will decapitate the other to magically gain the necessary strenght to prevent a renegade from becoming Earth's only immortal in this incoherent, century-hopping, globe-trotting meeting of Good and Evil.
Dean McKenna
Super Reviewer
Highlander: Endgame Quotes
There are no approved quotes yet for this movie.