Highlander: The Final Dimension
(1994)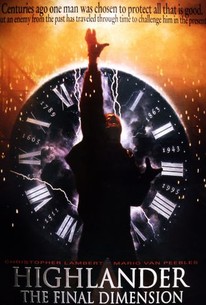 AUDIENCE SCORE
Critic Consensus: No consensus yet.
Highlander: The Final Dimension Photos
Movie Info
The third episode in the Highlander saga, this film describes the ongoing contest between immortals that began in Scotland 400 years ago. When the evil Kane breaks out of his tomb, he begins a bloody, super-powered search for good warrior Connor.
Critic Reviews for Highlander: The Final Dimension
There are no critic reviews yet for Highlander: The Final Dimension. Keep checking Rotten Tomatoes for updates!
Audience Reviews for Highlander: The Final Dimension
Third entry in the Highlander trilogy is yet another train wreck that doesn't deliver anything memorable. I've said this in my review for the second Highlander film, and I'll say this again, there is no effort into this sequel, this is lazy filmmaking. The thing with this third film is that the actors seemed bored, and the material they are given to work simply doesn't have that depth that made the original so good and memorable. I think it's a good thing that they gave up on the film franchise after this one because it really is a pointless film that is scrapping the bottom of the barrel. Don't go into this one expecting great things, you'll sadly be disappointed. This is a bland, unfocused action film that is all over the place, and it never becomes really involving for the viewer. This is even worse than the second Highlander film, and if you're looking for a redeeming film, you won't find it here. Fans of the original ought to stick with the first and not even watch the sequels. What really is shameful is the fact that the filmmakers really could have made a good movie, but like the second film, they just didn't have the effort in making a good film, and they ended up making a film that is plainly awful, and relies on a poorly thought out script that simply doesn't deliver anything worthwhile for the viewer. This entry ends the trilogy on an even lower note, and proves that they couldn't top the creativeness of the first film, which is a standout film. But like the Connor MacLeod said in the original film, there can be only one, and in the case of this trilogy, the one, is the original Highlander, which after you've seen the two dreadful sequels, should be considered as a standalone film.
A spectacular and explosive action-packed thrill-ride. A wickedly cool and tremendously entertaining adrenaline-rush from start to finish. Finally a sequel that stays true to the material and does an excellent job with it. A hard-rocking and exhilarating piece of great action movie. Lambert is back and delivering another brilliant performance and Mario Van Peebles gives a fearless and electric performance. A powerful and unforgettable movie.
Highlander: The Final Dimension Quotes
There are no approved quotes yet for this movie.