Highway 61
(1992)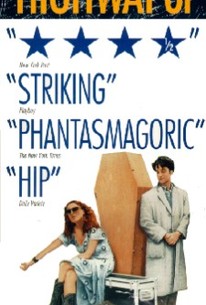 Movie Info
Highway 61 is an offbeat, comedic road movie about a small-town Canadian barber (Don McKellar) who finds a dead body. When a woman claiming to be the corpse's roadie sister (Valerie Buhagiar), arrives in town, he agrees to drive her and the body from Ontario to New Orleans, following Highway 61 over the entire journey. Along the way, they meet several odd characters. Though the story is poorly-paced, it has enough off-center humor and the performances are engaging enough to make it worthwhile. Rockers Jello Biafra and Tav Falco make cameos.
Critic Reviews for Highway 61
All Critics (7) | Top Critics (2) | Fresh (7) | Rotten (0) | DVD (1)
What's good about it are the performances by McKellar and Buhagiar, who look surprisingly like real people and not like movie actors, and a rock sound track by Nash the Slash, a group (or person) previously unknown to me, that's fun to listen to.

Highway 61, whose characters head south, has higher production values, better acting-and a real story.
A diverting episodic look at some eccentric characters on Bob Dylan's Highway 61.
Audience Reviews for Highway 61
Bruce McDonald makes a minor classic helped by the unforgettable McKellar and Buhagiar who meet the most bizarre people in a voyage down a highway and through musical history.
John Ballantine
Super Reviewer
When I was a kid, maybe about 10, I had a strange personal experience when - along with my parents and my five-years-younger sister - I saw this movie at the long-since-closed New Yorker Cinema, in London, Ontario, after my parents won four tickets by calling in to the radio station. What I remember is just an uncomfortable feeling: between the gritty urban opening, in which the heroine rips off a Toronto rock band for drug money then buses to the end of the line Northern Ontario, and our dippy hero's discovery of what's called a Rock Star Death in such remote small towns, (a twenty-something dude dead on the ground one morning, from drugs or booze), the premise was a little over my head... And the ensuing lie that she tells - that the stiff was her brother - to get our hero, a lonely and innocent barber, to drive her to New Orleans, not to mention the sex-in-a-graveyard scene, with a guy who seems to be the devil on their tail the whole time. Q: So what did I see this viewing that I didn't last time? A: Everything that requires a sense of irony. The film is, in many ways, a punk rock satire, and though it is Canadian, it gives Bruce McDonald a chance to riff on America, as particularly shown in the only other part I remembered, the encounter with a man whose three daughters are in a going-nowhere family band, all of them named after states (Louise, for Louisiana; Minnie, for Minnesota; and Missie, for Mississippi). Religion is McDonald's primary target here, but money and guns also get their share of scorn, and though there are quite a few good laughs, you'll feel uncomfortable enjoying them. In the end what you get is a film that's dark and desperate and that suffers only slightly from a small budget and immature dialogue... not to mention the meet-up with the old friends in New Orleans, where - like the acid trip in Hard Core Logo - the whole thing goes off the rails for a while. Warts and all, though, It's a Canadian classic, and I'm really glad I re-watched it when I was old enough to understand it: one less thing to tell my therapist about, now...
Daniel Perry
Super Reviewer
½
This is a strange movie. A nerdy barber (Pokey) lands up on a road trip from Ontario to New Orleans with a corpse and worldly singer (Jackie) who convinced him to make the trip. All sorts of interesting and strange things happen along the way - visiting Bob Dillon's childhood home, meeting Jackie's former band mates, having a disagreement with Satan, etc. It's a great film.
Highway 61 Quotes
There are no approved quotes yet for this movie.