Highway Patrolman
(1991)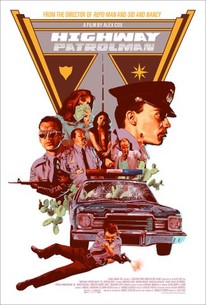 Movie Info
Lorenzo O'Brien wrote this scathing black comedy about a naive Mexican highway patrolman who is irresistibly drawn into corruption and violence.
Critic Reviews for Highway Patrolman
All Critics (6) | Top Critics (2) | Fresh (6) | Rotten (0) | DVD (1)
More than anything, it is a character study of a contemporary naif with decent human impulses and vague aspirations toward noble service who is driven to the edge by the grubby realities he is forced to accept.

Low-budget accomplished black comedy cautionary morality tale.
[Pedro] becomes perhaps the warmest protagonist in the director's entire canon.
Audience Reviews for Highway Patrolman
½
After the controversial flop "Walker," Alex Cox's career in Hollywood was finished. Four years passed before the British writer/director landed another feature, and he had to truck down to Mexico to shoot it -- with a slim budget and a cast whose biggest box-office draw was (drumroll, please) Pedro Armendariz Jr. No wonder the resulting film was barely distributed. Given its handicaps, "Highway Patrolman" is surprisingly first-rate. Cox's usual pop-culture satire is absent (he didn't write the screenplay), but it's not missed in this raw, realistic look at a young border officer negotiating a seedy world of drugs, swapped favors and double standards. The plot is largely episodic, and the story's lack of dramatic shape will be frustrating if you expect another action-packed "cop film." The story opens with proud Pedro Rojas (Roberto Sosa, oddly petite and cast against type) graduating from the academy, saluting his superiors with an unusual fist-to-chest gesture. But even as he's leaving, the system flashes its corruption: The new officers are drilled to stop a car first, and find a reason later. And from Pedro's initial traffic stop (where a woman cries to avoid a ticket), his principles begin to slip. Soon he's downing tequila, taking bribes, pocketing evidence and regularly visiting a prostitute, all while in uniform. He flags a truck that is illegally transporting workers, and ends up marrying the driver. When officer-related violence hits him on a personal level, he cleans up his priorities and launches a crusade for justice. But even there, he defies protocol. "Highway Patrolman"'s imagery is exquisite -- Cox's passion for spaghetti Westerns is unmistakeable amidst the yellow dust, desert brush, lonely roads, intriguing rock formations and decrepit villages. There's also a remarkable footbridge to enjoy. The landscapes do a nice job of compensating for the low production values, though there is one pitiful car mishap where you can practically see the explosive charges go off. Inspired catchphrase: "Buy our iguanas!"
Eric Broome
Super Reviewer
Alex Cox's meandering cop story feels more like a road movie than a thriller per se. It follows a Mexican highway patrolman from his graduation from the academy through his posting on a deserted stretch of highway to his showdown with a local drug runner who killed his partner. It has a lot to commend it; the off-beat subject matter, gentle humour, good performances and well shot sun drenched landscapes. The main problem with it is it's lack of drama. The long anticipated showdown doesn't really come to anything; it may be making some clever analogy about Mexico's inability to hold accountable the foreigners who use it for their own corrupt ends, but it did not make a satisfying climax to the film entertainment-wise; this is not helped by having a rather wishy washy protagonist who is neither really good nor bad enough to intrigue. Having said that, there is still enough material of merit here to warrant a look, especially for fans of world cinema.
Highway Patrolman Quotes
There are no approved quotes yet for this movie.