Highway to Hell
(1991)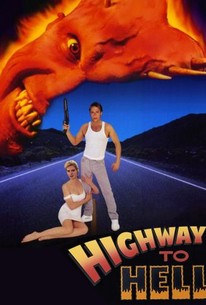 AUDIENCE SCORE
Critic Consensus: No consensus yet.
Movie Info
This semi-spoof of the Orpheus legend stars Chad Lowe and Kristy Swanson as newlyweds whose car is pulled over by Beezelbub (Patrick Bergin), who kidnaps the girl and takes her to Hell.
Critic Reviews for Highway to Hell
Audience Reviews for Highway to Hell
½
One of those films that kinda sits in the 'Army of Darkness' camp in terms of black humour and completely bizarre wacky imagination. Very much your typical cheap fantasy dream sequence type of movie really, its just surreal with big barren empty locations and lots of minimal sets. An easy way to create a world on a shoe string budget. The plot is loose and pretty muddled really. Kristy Swanson is kidnapped by 'Hell Cop' and taken to...errrr hell to be the Devil's bride for some reason, guess she makes him horny eh...oh geez. Hell of course means miles and miles of dead desert because its cheap to film. Its up to her boyfriend to rescue her, is that a surprise?. Along the way to hell he meets other famous dead folk including Ben and Jerry Stiller in very early film performances (Ben's first). These two cameos kinda took me out of the film as they don't really fit in if you ask me. Its a wild hallucinatory ride that doesn't make much sense and looks a bit tacky to be honest. The main deal with this film is the visuals and hands on makeup/prosthetic effects created by Steve Johnson. This is what makes the film better than other low budget horror's because of Johnson's brilliant makeup wizardry and freaky imagination with his monsters. The 'Hell Cop' looks totally badass with his burned scared head. There are pentagram's and various satanic text branded into the flesh of his head like graffiti oh and his shades are nailed to his face. His car kicks ass too in a nice 'Mad Max' kinda way, a real juicy modified rust bucket. Pat Bergin as the Devil looks quite good also, not as ultra cool as 'Hell Cop' but some nice work all the same. There are a few other great examples of Johnson's skills with a decrepit zombie cop and full body demon version of 'Rachel'. Nice bit of stop motion animation thrown in too with a three headed hell hound. Bit crappy looking but still better than CGI as its real which gives it a bit of character. You'd think it was an 80's comedy horror to see it, it has all the typical features of the great era. I think its along the same lines as 'Repo Man'...a totally ridiculous off the wall plot with some great artistic visuals, the perfect B-movie. Full on cult if ever I saw it and worth seeing for Johnson's work, heck its practically the Steve Johnson show of undead circus creatures.
Phil Hubbs
Super Reviewer
½
Less a horror movie, more an infernal adventure as pizza delivery shmuck Chad Lowe journeys to Hell to save his girlfriend from the clutches of Hellcop, an accursed lawman who sports some wicked facial tattoos. Some original ideas about the wrong side of afterlife are presented while working with a meager budget, I particularly liked the literal hand-cuffs and the Good Intentions Paving Company. Some familiar faces in small roles included Ben Stiller(!), Jerry Stiller, Richard Farnsworth (from The Natural), Gilbert Gottfried, and supposedly Lita Ford who I somehow missed. One of those tweener flicks that can entertain when in the right frame of mind - not worth a Netflix queue, watch it On Demand instead.
Doctor Strangeblog
Super Reviewer
½
Two young lovers get caught in an inter-dimensional speed trap, and are sent straight to hell. Fast-paced writing and action, as well as large dashes of humour and sight gags, make this an entertaining thriller.
Dean McKenna
Super Reviewer
Highway to Hell Quotes
There are no approved quotes yet for this movie.