The Hired Hand
(1971)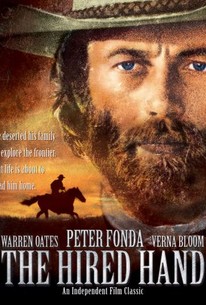 Movie Info
In his debut behind the camera, Peter Fonda also stars with Warren Oates as a drifter who returns to the wife (Verna Bloom) Fonda deserted seven years before.
Critic Reviews for The Hired Hand
Audience Reviews for The Hired Hand
½
[font=Century Gothic][color=sienna] "The Hired Hand" is a 1971 western directed by Peter Fonda(his first, and perhaps only noticeable effort) about a man who after several years wandering aimlessly with his pal through the West, decides to return to the wife he left several years before. The movie is deliberately paced and occasionally artsy. It is worthwhile because of the spotlight on the relationships between the characters and for one notable speech given by Verna Bloom who plays the abandoned wife. And Warren Oates has another very good performance in this movie.[/color][/font]
The Hired Hand Quotes
There are no approved quotes yet for this movie.