His Brother's Ghost
(1945)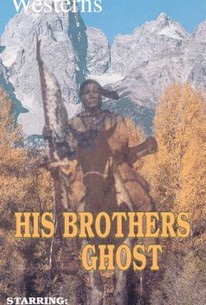 AUDIENCE SCORE
Critic Consensus: No consensus yet.
His Brother's Ghost Photos
Movie Info
An otherwise typically cheesy Billy "the Kid" Carson B-Western series entry from Poverty Row studio PRC, His Brother's Ghost is unusual in having no leading lady. Yes, that's right: no rancher's daughter or schoolmarm for Larry "Buster" Crabbe to romance and embrace at the fade-out and no damsel for the evil Charles King to bring in distress. In what could have been another departure from the norm is the fact that the comic sidekick is killed off early on. That, of course, is merely a plot contrivance to bring on his identical twin brother, who then goes about scaring the living daylights out of the gang that has been terrorizing Wolf Valley. The outlaws are so frightened that their leader, Thorne (King), takes the extreme measure of exhuming the dear departed to prove that he really is completely and irrevocably dead. Al St. John, as Andy Jones and his twin, Jonathan "Fuzzy" Q. Jones, had a field day playing the dual role, and Charles King got to utter such lines as "the only good sharecropper is a dead one." But all in all, His Brother's Ghost is typical PRC: shoddy production values (the bandits' hideout resembles, and probably was, a nice suburban tract house in the San Fernando Valley), occasionally inept direction, murky photography, and a wonderful overall sense of fun. But what happened to the girl? The handsome but somewhat stuffy Crabbe seemed lost without her.
Critic Reviews for His Brother's Ghost
Audience Reviews
There are no featured reviews for His Brother's Ghost at this time.
His Brother's Ghost Quotes
There are no approved quotes yet for this movie.