His Kind of Woman
(1951)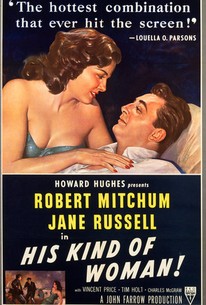 AUDIENCE SCORE
Critic Consensus: No consensus yet.
Movie Info
His Kind of Woman directed by veteran John Farrow, is a convoluted mystery thriller which tries unsuccessfully to combine slapstick comedy with excessive violence, resulting in a film that depends more on stereotypes than on plot development. Nick (Raymond Burr), is a deported gang boss who needs to get back to the United States to run his operation. Dan Miller (Robert Mitchum) is a hard-up guy, who is persuaded, both by a series of beatings and a substantial sum of money, to sell his identity to Nick. Lenore (Jane Russell) a singer, poses as a heiress, trying to marry a millionaire. They all meet up in a resort in Mexico where Nick intends to have plastic surgery to alter his looks. There, a number of double-crosses, shootings, and chases all culminate in an exciting confrontation aboard ship. His Kind of Woman, a Howard Hughes production designed to be a showcase for Jane Russell, is entertaining when viewed as a comedy. As a serious film-noir thriller, it lacks suspense and depth. However, the film has its moments, and Robert Mitchum is in his element as the loner anti-hero.
Critic Reviews for His Kind of Woman
All Critics (3) | Fresh (3) | Rotten (0)
Adventurous and exciting in ways missing from other movies made by more stable individuals.
I should like to yawn in its face, but I must commend to you Mr. Vincent Price who, as a ham film star on vacation, is, when translating his braggadocio screen roles into real life, intensely funny.
Price's role was priceless as the conceited thespian quoting Shakespeare during perilous moments.
Audience Reviews for His Kind of Woman
½
Must enjoyable drama with thanks to Vincent Price a lot of comedy overtones. He is so wonderfully ripe as a ham actor who gets a chance to perform acts of derring do for real. Mitchum and Jane Russell make a great team as usual.
I really liked this movie, it has both Robert Mitchum and Vincent Price. Price gives a hilarious performance, which I just love, and Mitchum plays the main character who is involved in a web of suspense. It's a really cool movie, but there are some slow scenes in the beginning. Overall a really good movie, though, I like it.
½
Some fun 3rd-string film noir with Robert Mitchum playing... well, Robert Mitchum with a really good cast. Most of the action takes place at an upscale Mexican resort and as a result, His Kind of Woman feels a bit claustrophobic before it moves the too-long climax to a boat. Admittedly flawed, this movie's about 20-30 minutes too long, but Jane Russell's reasonably foxy and Vincent Price is great, even if he gets a tad overbearing (think Bill Murray not shutting the hell up for the last half hour of Ghostbusters) towards the end.
Michael Gildea
Super Reviewer
His Kind of Woman Quotes
There are no approved quotes yet for this movie.