History Is Made At Night
(1937)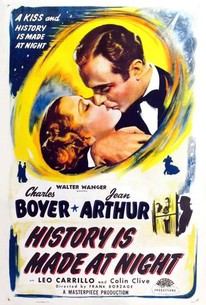 History Is Made At Night Photos
Movie Info
History is Made at Night has been described as a romantic tragedy, which it indeed is, up to a point. The film begins deceptively in screwball-comedy fashion with socialite Jean Arthur and handsome head waiter Charles Boyer "meeting cute." But there's nothing cute about Arthur's estranged husband, shipbuilder Colin Clive. Insanely jealous, Clive arranges for the ship on which his wife and her lover are travelling to hit an iceberg--then, aghast at what he has done, Clive commits suicide. As the ship lists dangerously close to sinking beneath the waves, the terrified passengers--Boyer and Arthur included--huddle on the deck. The fog-enshrouded scene in which Charles and Jean affirm their love in the face of death is among the most heartrending sequences ever filmed (the director was Frank Borzage, a past master at transforming potential maudlin material into high-gloss art). Even the happy ending of History is Made at Night does not diminish the power and poignancy of that shipboard scene.
Critic Reviews for History Is Made At Night
Audience Reviews for History Is Made At Night
Charles Boyer and Jean Arthur share some nice chemistry in the standard love story that is not standard at all. Arthur is married unhappily to Colin Clive (yep, he of Frankenstein fame) and the reason for her unhappiness is as grownup as any I've seen in any movie ever. The film flickers meanwhile from screwball comedy to melodrama to disaster flick in the blink of an eye and, rather than distract, the method keeps one involved. Keep an eye out for this one, as is a classic.
Kevin M. Williams
Super Reviewer
½
what an odd film that covers every genre from romantic comedy to thriller to heavy melodrama to disaster film! the lovely jean arthur has great chemistry with her dashing leading man charles boyer, but their love is thwarted by her dastardly, and psychotically jealous, ex-husband colin clive. the original dr frankenstein died shortly after this film was completed
Stella Dallas
Super Reviewer
½
This is a very interesting movie because it combines so many different elements of different genres, but it gets to be too much, and I really didn't like the ending.
History Is Made At Night Quotes
There are no approved quotes yet for this movie.