History of the World---Part I
(1981)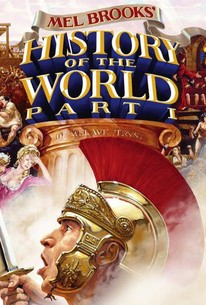 TOMATOMETER
AUDIENCE SCORE
Critic Consensus: History of the World: Part I may not have enough comedic inspiration to merit a Part II, but the sporadic cleverness of these anachronistic skits are still a testament to Mel Brooks' gift for farce.
History of the World---Part I Photos
Movie Info
Mel Brooks produced, directed, wrote, and starred in this episodic comedy in the spirit of Monty Python and the 1957 studio travesty The Story of Mankind. The film is divided into five sequences that play like blue-toned Eddie Cantor vaudeville sketches -- "The Dawn of Man," "The Stone Age," The Spanish Inquisition," "The Bible," and "The Future." Also included is a Brooksian depiction of The Last Supper and a long-winded sequence about the French Revolution. The film starts with a 2001: A Space Odyssey parody, narrated by Orson Welles, in which a collection of ape-men learn to stand erect (in more ways than one). The Stone Age reveals the origins of both the first homo sapien and homosexual marriages. Brooks then appears in an Old Testament sequence as Moses, descending from Mount Sinai with three heavy stone tablets bearing the 15 Commandments; after he drops one of these tablets, the laws of God become 10 Commandments. The Roman period picks up with Brooks as Comicus, attempting to get a gig as a "stand-up philosopher" at Caesar's Palace. The Spanish Inquisition is a musical production number with monks torturing Jews to lively Broadway musical strains. The final French revolution section is a broad parody of The Man in the Iron Mask story. The film closes with coming attractions of "History of the World, Part II" that features a rousing Star Wars parody (anticipating Space Balls) called "Jews in Space" that includes a jaunty theme song.
Critic Reviews for History of the World---Part I
Audience Reviews for History of the World---Part I
A truly funny, episodic comedy. Kahn is great and the musical numbers are memorable.
Christian C
Super Reviewer
½
An underrated Mel Brooks gem, The History of the World-Part 1 is a hilarious film. Mel Brooks delivers yet another great film. The History of the World-Part 1 is a crude, offensive comedy, but it works. The film has all the ingredients that make up a great Mel Brooks comedy. This film is fairly underrated, and is viewed as less superior as Brooks' works. The cast here are a wonderful bunch of actors that deliver something memorable to the screen. If you enjoy a good Mel Brooks film, then give this film a view, this film is definitely worth it, and is lots of fun from start to finish. The comedic delivery is low brow, and it works. With every film that Mel Brooks has done, he's done something hilarious, something that would push the boundaries of the comedy genre, much like Monty Python; His films are classics of the genre. If you're a fan of Mel Brooks, give this one a shot. The jokes are in poor taste at times, but they're meant to be taken with a grain of salt. The History of the World-Part 1 is a near flawless comedy, and is among Mel Brooks' best works. Funny from start to finish, History of the World-Part 1 is supported by a great cast of talented funny actors who really make this film stand out. If you want a great slapstick offensive comedy, then this is the perfect flick to watch. This really an underrated film in my opinion and it doesn't deserve the flack it has received. If you enjoy Mel Brooks, you'll enjoy this film. I was surprised at how much I loved it, a true comedy classic.
What was Brooks thinking with this movie? It's not funny, all the jokes are stupid, and there's not really a story (not that one I can recall anyway.). I hated this movie.
History of the World---Part I Quotes
| | |
| --- | --- |
| Empress Nympho: | Ah, but the servant waits, while the master baits. |
| | |
| --- | --- |
| Empress Nympho: | I love quick time march. |
| | |
| --- | --- |
| Coming Attraction: | See, Hitler on ice! |
| | |
| --- | --- |
| Marcus Vindictus: | [while Josephus is hiding among the eunuchs, Caladonia dances erotically in front of them to test them] He's a eunuch. |
| Capt. Mucus: | Mmm-hmm. |
| Marcus Vindictus: | [she moves to another one, dancing harder] *He's* a eunuch. |
| Marcus Vindictus: | [she moves to a third one, dancing even harder] He's *dead!* |
| Capt. Mucus: | Hmm. |