Hit By Lightning
(2014)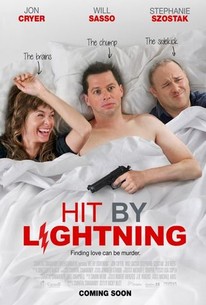 Movie Info
RICKY MILLER a sweet 40-plus manager of a Denny's type restaurant gets his prayers answered when he joins a dating site and meets DANITA - an impossibly beautiful woman who shares all his interest. He soon learns there's just one little catch - she's married and he has to kill her evil husband. Ricky shrugs - there's always going to be SOME baggage when you're both around 40. Ricky's best friend SETH finds out her monster husband is actually an ex-Rabbi who proves to be generous and affable when they finally meet him. Ricky is torn. Is Danita telling him the truth? Or is Seth right and she's a femme fatale like Kathleen Turner in 'Body Heat' who's playing Ricky? (C) Gravitas Ventures
News & Interviews for Hit By Lightning
Critic Reviews for Hit By Lightning
Audience Reviews for Hit By Lightning
I used to enjoy watching Jon Cryer in "Two and a Half Men, and Will Sasso is pretty much funny at anything he does, most recently seen in "The Three Stooges" as Curly. Sadly, I do have to say that they are not given enough material to work with here. "Hit By Lightning" has very little laughs, even though the screen presence of Cryer and Sasso together was a nice treat. After meeting the girl of his dreams on a dating site, Ricky realizes she has a husband who would kill her if he found out about them, therefore forcing a murder plan on Ricky towards her husband. The plot is pretty bland, making it a difficult viewing experience, because I still found myself enjoying the cast. By the end of this film, my eyes were sore from all of the eye rolling I had endured, from it's dumb comedy to it's clumsy execution. Although it is a very weak film in my eyes, the crew did work from a string budget, and I highly commend them for getting the cast they did. Overall, it does feel like more of a 20-minute-sitcom premise, but you may find some enjoyment if you like these actors. "Hit By Lightning" is not my cup of tea.
Hit By Lightning Quotes
There are no approved quotes yet for this movie.