Hitchcock/Truffaut
(2015)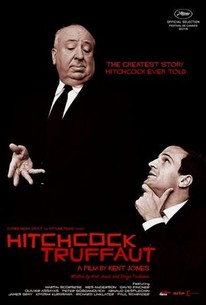 TOMATOMETER
AUDIENCE SCORE
Critic Consensus: Essential viewing for cineastes while still offering rich rewards for neophytes, Hitchcock/Truffaut offers an affectionate -- and well-crafted -- tribute to a legend.
Hitchcock/Truffaut Videos
Hitchcock/Truffaut Photos
Movie Info
In 1962, Alfred Hitchcock and a 30-year-old François Truffaut sequestered themselves in a windowless Hollywood office for a weeklong conversation. The result: the seminal book "Hitchcock/Truffaut," published a half century ago, dissecting every film Hitchcock had made until then, illuminating his masterful techniques, making the case for the popular director as an artist, and influencing generations of filmmakers. Kent Jones brings "the Bible of Cinema" to invigorating life. He interviews filmmakers whose work has been profoundly influenced by Hitchcock-Martin Scorsese, David Fincher, Richard Linklater, Olivier Assayas, and many others.
News & Interviews for Hitchcock/Truffaut
Critic Reviews for Hitchcock/Truffaut
Audience Reviews for Hitchcock/Truffaut
What could have been a more perceptive discussion about Truffaut's seminal book turns out to be frustratingly superficial instead, moving quickly from one topic to the next without much sense of focus and not managing to offer much insight beyond the most reverential obvious.
Carlos Magalhães
Super Reviewer
The success of documentary is usually based on how much you already know and how much you learn about the main subject of the film. I knew a bit about Hitchcock, but I never dug deep into his archival footage or books written about him to understand the full psychology of the master of suspense. Hitchcock/Truffaut is a fascinating look into several of Hitch's films, and even some of Truffaut's, even if it is a little too short to call it a full exploration. Director Kent Jones gathers several of Hollywood's greatest filmmakers, including Martin Scorsese, Richard Linklater, Peter Bogdanovich, and David Fincher, to discuss Hitchcock's influence on the art of cinema and some of his most effective features. These commentators are certainly insightful, but you don't get enough from each of them to get full satisfaction. The film is based around a conversation between Hitchcock and Truffaut that took place in 1962. Truffaut, an up and coming filmmaker at the time, provides the viewer (or reader) a glimpse into what it would be like to interview the legendary filmmaker yourself. In many ways, Truffaut gets to ask all the questions any fan of Hitchcock has always wanted to ask. Whether it's addressing his catholic roots, sexual undertones in many of his features, his transition from silent film to talkies, the dreamlike quality to the films, or his iconic use of "god's eye" camera angles, it's all covered. As a film junkie, this type of coverage on one filmmaker is a dream come true. Again, the one thing I think the film could have improved upon was just giving more of everything and spending even more time on his expansive filmography. Spending a good chunk of time on Vertigo and Psycho was definitely needed, but I would love a more in-depth look at plenty of other films of his as well. However, overall, this documentary is a joy to watch, especially considering it's brilliant filmmakers commenting on Hitchcock, who is one of the greatest. 8.5/10
Thomas Drufke
Super Reviewer
A fascinating listening to the oral history put forward by Hitchcock through his interviews with Francois Truffaut. Visuals are an added bonus.
John Ballantine
Super Reviewer
Hitchcock/Truffaut Quotes
There are no approved quotes yet for this movie.